28. The Crucible (Available to view on Netflix Instant Watch)
Click here to watch the trailer for The Crucible.
I watched this today when I found it on television, and my husband said "are you watching The Crucible again?" Yes dear, yes I am. I don't remember when I first saw this movie, but I assume that it was around the time it was released (November 1996), because in April 1997, I was heavily involved in the production of the play at my high school. Perhaps the large amount of memories I have about the Arthur Miller play is why I will pretty much always watch the movie when I catch it on TV.
In the opening of the film, some girls from the village of Salem get into some sketchy dealings in the woods, involving a Barbadian slave and drinking chicken blood. They are caught and soon enough, 2 girls are unconscious and will not wake up.  This leads to suspicion of interference from the devil, and the girls end up accusing the Barbadian slave of witchcraft in order to avoid any trouble of their own.
Soon we are exposed to the illicit relationship between John Proctor and Abigail Williams.  Abigail worked in John's home with his wife and children, and naturally, they got it on.  Abigail was found out by Elizabeth Proctor and was put out of the house.
I am not interested in going into the whole story, but basically, the whole town goes on a crazy witch hunt, lead by little girls who seem to love the attention.  I cannot recommend this movie enough, it's so good, and Daniel Day-Lewis is AMAZING as John Proctor.
He is serious about his name people!
Anyway, as I mentioned, I definitely recommend a viewing of this movie.  I can't say that it would be something everyone would want to own, but you should check it out anyway.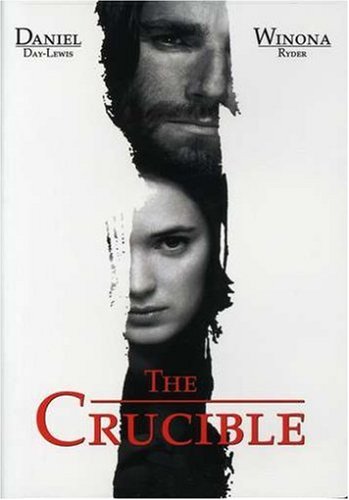 The Crucible is available on DVD from Amazon for $4.99.
{ Comments on this entry are closed }