Here are all of the other Instagram Roundups!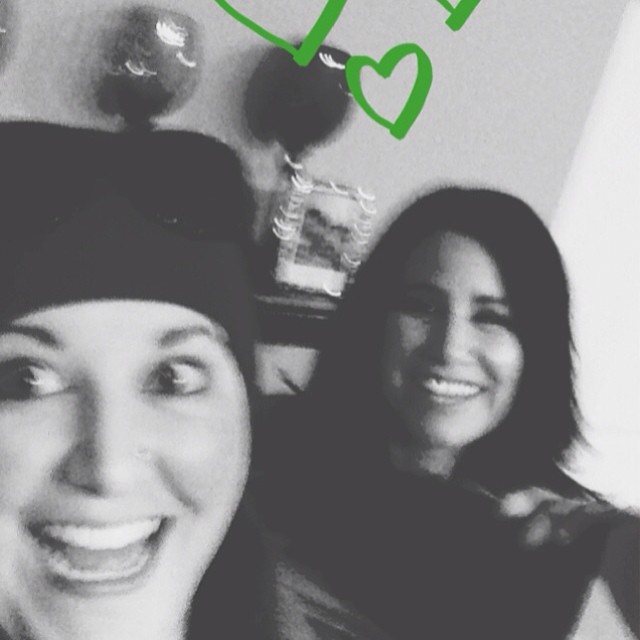 I chose this blurry selfie with Karla as the first pick for my foray into the 100 Happy Days project. I LOVE THIS idea. Every day for 100 days, I have to post about something that makes me happy. Similar to the concept of the gratitude list, a daily reminder to tell yourself that there are good things to focus on.
Day 3 was dinner, RuPaul's Drag Race, and podcasting with David.
Throwback Thursday was all about Dad and his cutoffs at the Jersey shore.
Our new couch arrived! I was almost equally excited that someone took our old couch that had been put out for pickup before it was picked up. I hope it has a new home. Other than pilled fabric and the droopiness that comes from 7 years of use, there was really nothing wrong with it. I really like our new couch though, the cushions are so springy.
Will stayed home to wait for the couch delivery and so David and I went out to explore and shop at some local estate sales. My favorite house was the home of a 103-year-old woman who had some lovely things, like these well-used glittery pumps. I ended up taking home a beautiful vintage black leather bag.
This copper tile backsplash was in the same house.
The room in another house we went to had the best closet and some beautiful light.
Day 7 is the handwritten pancake recipe from Nan that hangs on the fridge. It came along with a flat griddle pan that was immediately purchased for us after a tinge of horror that we were trying to make pancakes in a frying pan.
I am excited for the next 93 days in this challenge!
{ Comments on this entry are closed }