Stop, Madonna time.
You all know that I LOVE pop music, so I had to share my initial thoughts on this new Madonna video for her single "Give Me All Your Luvin'."
[youtube cItHOl5LRWg]
If you can't see the embedded video, click here to view it on YouTube.
Let's start with the song. It could be better. Of course. But, in the situation, I think it's cute. The cheerleader thing and the football player-filled video are perfectly matched with Madonna's upcoming Superbowl halftime show.  And even though Madonna has had plenty of work done, she's injecting something even better by bringing MIA and Nicki Minaj on board for the song and video.
I love these ladies together.  Swag for days.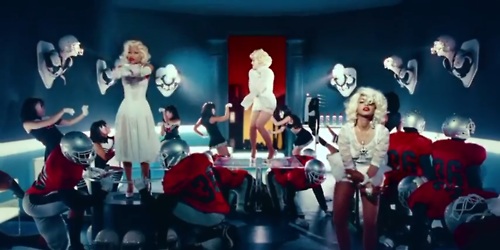 Then this happens in the video, a reference to a reference with the girls taking on Marilyn Monroe, as Madonna famously did in the Material Girl video.
BTW, work done or not, Madonna still looks fantastic. A little plastic? Of course. But she's no spring chicken people.
Look at her body! She's in crazy good shape. I need to borrow her yoga teacher and whoever makes her what I am sure are deliciously filling but super-healthy meals.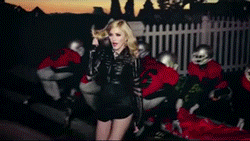 For what it is, it gets my OK on the "Touchdown" message at the end. It certainly is no "Like A Prayer" video, but its pretty good. I'm interested to hear the rest of her new album and make a new decision then.
Regularly scheduled Sights & Sounds tomorrow.  Check out Tumblr for all of these fabulous images.