If you haven't started shopping yet, you might want to definitely do your shopping online, the stores will be a mess until after the holidays are over.  Luckily, stores like Sephora have put all of their holiday special sets online and they are great gift options.
As of now, there are 148 options in the gift set section of the Sephora website.  Here are a few of my favorites:
The Tarte Jewelry Box is a fabulous item.  I have the 2009 version of this and it's been a great addition to my makeup collection.
An exclusive, limited-edition palette packed with 32 new eyeshadows, eight lip glosses, a mineral bronzer, a new shimmering powder, five deluxe long-wearing eyeliners, and a detachable necklace.
Grab this collection from Sephora for $52.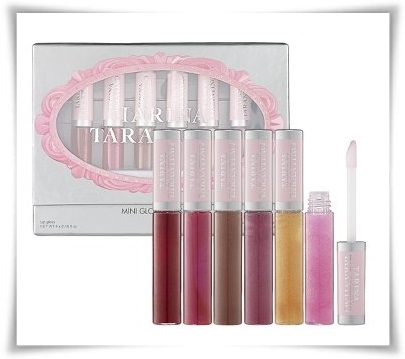 We all know a lip gloss addict.
Two new shades join this lineup of six gorgeous glosses, allowing you to pick the perfect color that fits your mood. Each of these innovative formulations provides high shine and medium color payoff in a silky, ultra-light gloss with a peach sorbet flavor.

This set contains:
– 6 x 0.1 oz Gem Glosses in Disco Nap, Barrette, Carousel, Fuchsia Revolution, Semiprecious, Ruby Headphones
Buy this great set of 6 Tarina Tarantino glosses for a mere $25.

Readers of the blog know that I love nail polish. I do have a few bottles of Sephora for OPI and the polish is really nice.
A perfect gift, this Sephora by OPI set includes 18 shades that range from essential to edgy. These longwearing, chip-resistant colors include a versatile spectrum of reds and a sampling of daring colors that can add fabulous fingertips to any look.

This set contains:
– 18 x 0.12 oz Nail Colors in A True Romantic, Techno Girl, Access 24/7, Ms. Can't Be Wrong, What A Broad, Just A Little Dangerous, Cab Fare, Caliente Coral, Special Request, High Maintenance, Sample Sale, I'm With Brad, Leaf Him At The Altar, Mermaid To Order, Opening Night, Already Famous, Dating The Drummer, Never Enough Shoes
This is a great set of miniature bottles, so the gift recipient can try out the different colors and go out and get a full-sized bottle of anything they like.  This is available from Sephora for $48.
Love this!
This set of nine fragrance samples includes a voucher for a full-size version, making it a perfect present when you're not sure what to choose. Its box opens to reveal a range of Sephora's bestselling women's fragrances that can be sampled right away. From the fruity, urban chic of DKNY Be Delicious to the luxurious, floral sophistication of Prada Infusion d'Iris, choose a favorite, then take the included voucher to a Sephora store to receive a full-size version.
Even better than the nail polish sampler – this one actually has the voucher for a full-size version.  Plus, Versace Bright Crystal is in there, and that's one of my favorite scents ever.  This sampler set with full-size voucher is available from Sephora for $75.