Click here for all posts in the Brand Experience Project.
While in Charleston recently, we stopped in at the Savannah Bee Company store, and it was lovely (more on that coming soon to the blog). While I was editing the photos from our trip there, I decided to check out their website to see if it matched the amazing in-store design and experience. It turns out that their website is beautiful and charming, just like the store.
Please note that these images are maximized to fit within this page so that all of the detail and text can still be seen!
First up is the homepage.
I am totally here for all of the hexagonal design choices, perfect for a company with Bee in the name. It really is a lovely homepage in general. Large feature banners are front and center, the navigation is easy to find, and they find a space for best-selling products as well. The bottom 3 banners are smaller but also provide good featured information. I am immediately drawn to CLEARANCE!

Let's take a look at the dropdown menus first. They are beautifully sorted and easy to navigate.
Let's move on to the clearance page.
There are things about this page that I love, and things I don't love at all.
The explanation of the "clearance" section and why items are there is brilliant (read here if the image is too small), but I wish it wasn't at the bottom of the page! It is such a good idea, and I can only imagine that a number of customers are missing it.
There aren't any prices on these items! To be fair, none of their product listing pages have pricing. I think this is unfortunate – even a range of prices (if that applies) would be a bit better than nothing.
Using extra feature space for facts about honeybees is super charming and lovely.
"Shop More Specials Products" isn't grammatically correct!
Let's move on to the product page – I chose to look at the lip balms on clearance.
Another set of comments on this product page.
These are clearance items, but the original price isn't shown next to the sale price. We all love to feel like we are getting a hot deal, and that is missing here.
In the product details, there is a clear explanation that the reason these are on clearance is because the introduction of new lip balms generated a packaging update for ALL of their lip balms. I don't think that this level of explanation would work for all retailers, but I think an effort to identify places where it would work could go a long way to selling off excess or discontinued product.
The bottom bar you can see above, about "ingredients from the hive," is well below the initial product information. It is also below product reviews AND the "you may also like" section. I'm guessing that this is a symptom of a page template (I use Magento as well, so I'm familiar with product page templates), but this information seems like something I would like to know about when I'm thinking about buying the product, so having it live in the bottom seems really strange. I know it isn't the shortest bit of text, but if the product details portion is expandable, adding this should not be too obtrusive to the user experience.
While I really like the look of the social buttons that float on the left, I wish they were repeated near "email a friend" as the concept of sharing is the same feeling.
I would prefer to see the reviews at the very bottom of the page, and perhaps would like to see the area containing the reviews only expanded when someone actively chooses to read them. It's a long page and this adds to it, I think unnecessarily.
I went ahead and added some Earl Grey lip balm to my cart – and received this on-screen message. It is very subtle, I almost didn't notice it!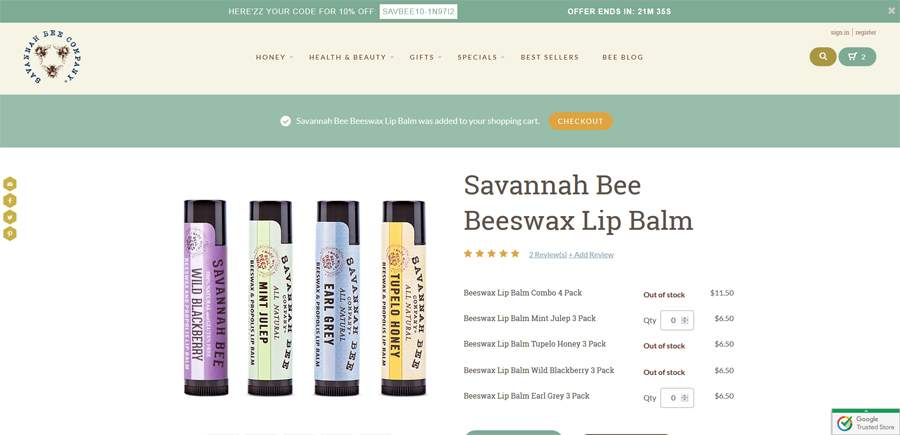 I moved right on to the cart.
Here is a look at the cart preview.The size of the "view cart" and "checkout" buttons seem enormous next to the cart contents, but I can let that go. Let's move on to checkout then!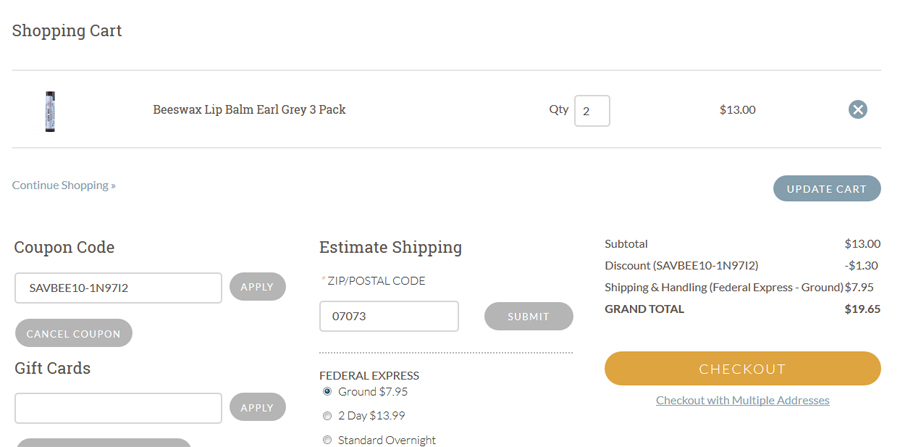 This is a good cart page! There's a lot of information at the bottom there, but none of it is overwhelming.
I skipped the address areas, they were pretty standard. We do get into one of my pet peeves here though.
While I am super grateful for the VERY specific 23.82 estimate for overnight shipping, and an option for a PO Box, once again, there is nothing here about how long orders take to process. This is definitely a factor in deciding what shipping option to choose, particularly if you're in a hurry. It's a simply enough thing to add and would be worthwhile here.
I am confused by the gift options situation. I don't get the idea that gift wrap is available, but as always, I wish companies would create a pop-up showing where the gift message shows and what it looks like.
The sentence "You can leave a box blank if you don't wish yo add a gift message for whole order" needs improvement. Something friendlier!
I skipped the payment page, it was pretty standard. The order review page is straightforward, and the newsletter subscription at the bottom is easy to see and navigate. (I am assuming that Savannah Bee Company doesn't use double opt-in for their email list?)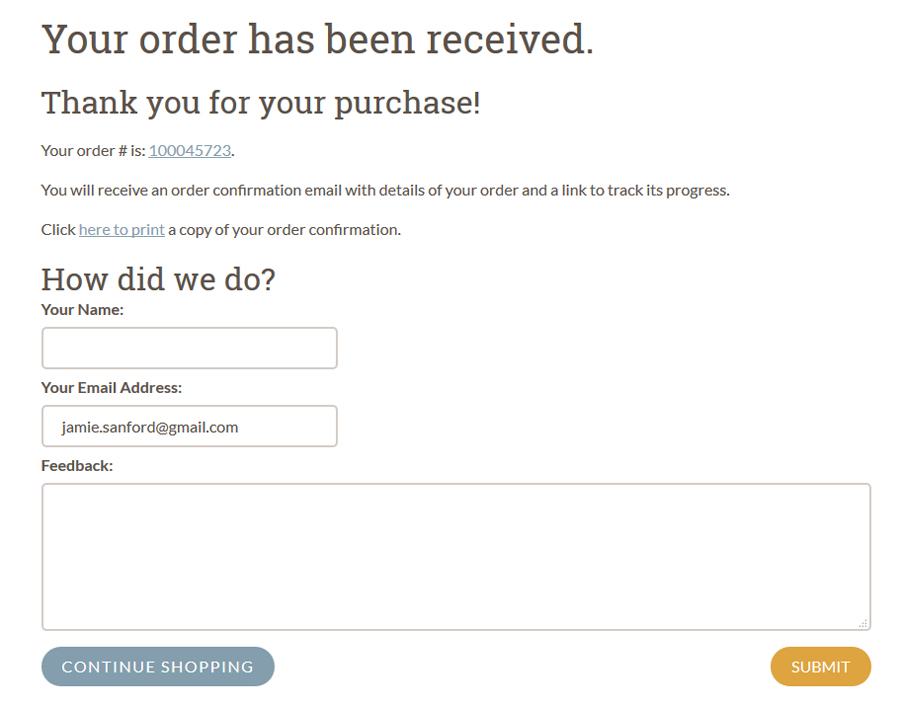 A new addition that I haven't seen before, a survey on the order completion page! Although I would prefer to see a follow-up email with a link to this survey after the items have been received.
Here's the order confirmation email: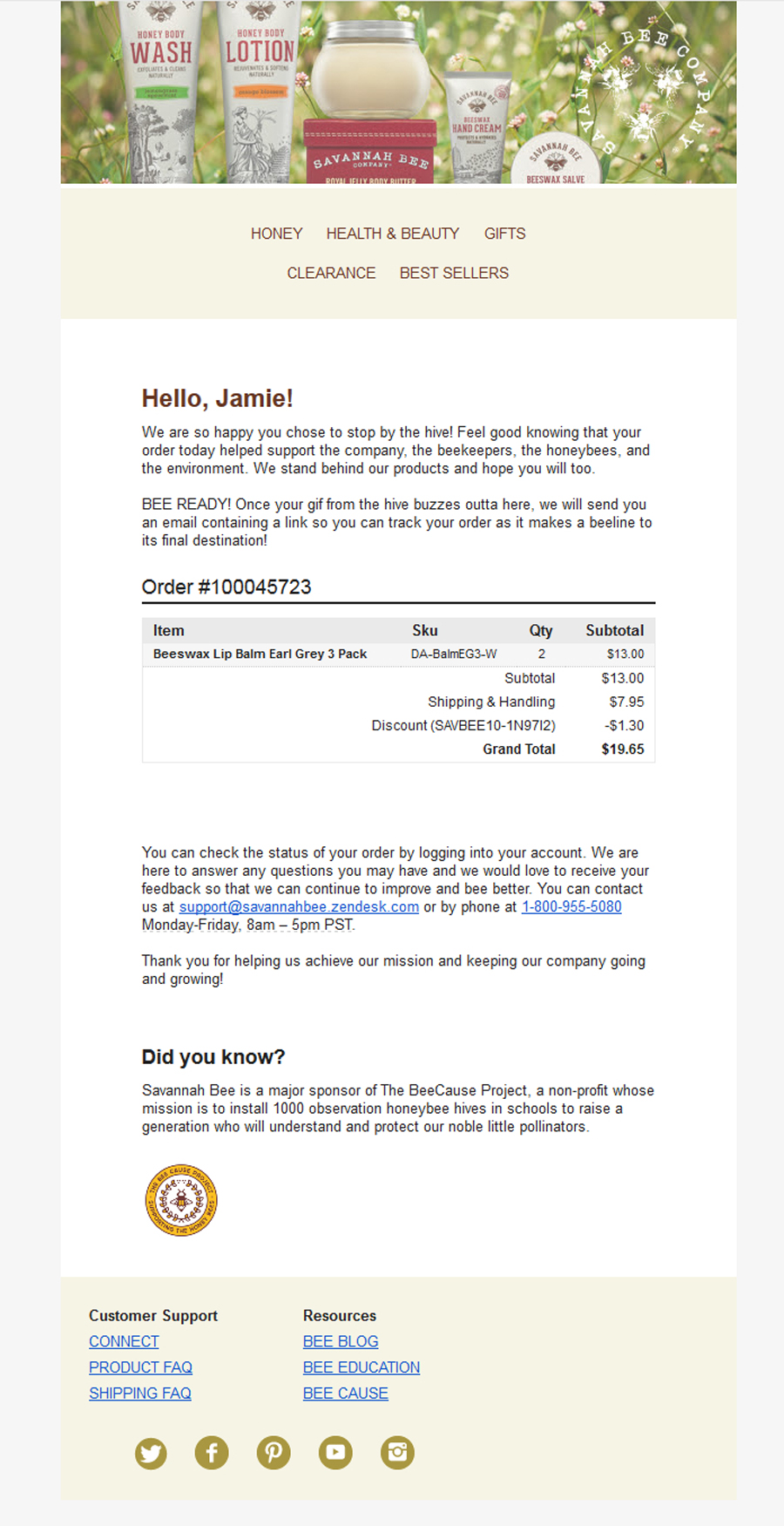 A few comments on this email:
The logo is lost in the header, which really bothers me. It actually took me a moment to find it.
The messaging in the email body is really great. It makes me feel great about my purchase on multiple levels!
Again, no mention of an estimated shipping time. Even a "your order will process for 2-3 business days before shipping" would be better than nothing.
I really wish the customer service email was a branded email address from their domain, instead of their third-party customer service provider.
I would love to have seen the hexagonal design continue on the social buttons on this email template.
Finally, the shipping confirmation email.
A different email header, which is unfortunate, but at least I can read the logo this time. You can see in the header that they are using multiple services to manage their business – I wish this was a bit more hidden, but this might be something that no normal person who doesn't work in e-commerce would notice.
(Ship Station is a shipping software that connects with Magento.)
More fun content and playing on words.
I really like that I'm being told that the order hasn't necessarily left their facility yet. This is something simple to add to emails that will help people who panic when the tracking link doesn't have any information yet.
Overall, I give Savannah Bee Company high marks in the design and content categories, but product-specific data needs some work. I also think that more information pertinent to the customer is a necessary evil, even when it takes up more space on a page.
On a secondary note (secondary in the context of this blog post), the Earl Grey lip balm is wonderful and I think I might order some more at that amazing price!