Product Review: Batiste Dry Shampoo
Check out all of my Product Picks here. If you want to see all of the products I've reviewed (not just the ones I like), click here for Reviews.
2015 UPDATE: I take it all back. I bought another bottle of the Batiste and now it is all I use! (I do not use the brunette one though.)

I have talked about the Dove Dry Shampoo I use in the past on the blog, and I really like it. However, I had heard about the Batiste Dry Shampoo being good for brunettes, so I decided to check it out.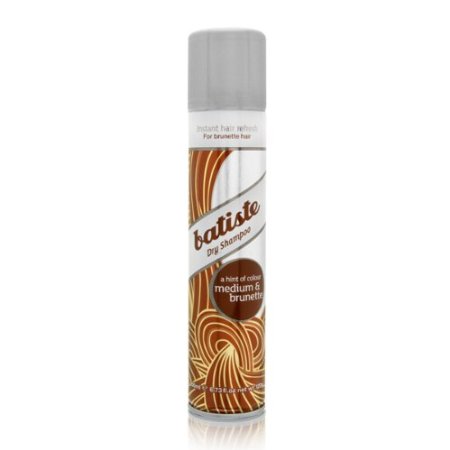 Here's the description:
Batiste dry hair shampoo is the classic dry shampoo that instantly makes your hair feel clean, fresh and full of body and texture. Batiste dry shampoo instantly refreshes your hair between washes, leaving it feeling gorgeously clean and fresh with added body and texture. Medium is perfect for rich brunettes and fiery auburns. These fabulous dry shampoos revitalize lifeless locks between washes with a hint of color to blend with your hair tone.
Sounds pretty straightforward, and I tried it specifically because of the promise of no white residue showing on my dark hair. I tried it out, and it worked well as a dry shampoo. It refreshed my hair on day 2 after washing, and left it feeling bouncy and good to go for the day.
Then I took a shower.
I looked down at the water and noticed it was dirty looking. I thought it was weird, and still, it took me a few minutes to realize that this was the dry shampoo washing out of my hair. A downside, for sure. This was only made worse when I saw the state of the tub after my shower was over. There was brown crap ALL over the tub, not just around the drain. It was easy enough to rinse off, but obviously, this is a dealbreaker.
I have no idea if there would be any way to avoid this. I don't have brown crap all over the tub after I dye my hair, so something in the Batiste dry shampoo formula must not be very water soluble, because it just floats around in the water and sticks to the tub surface.
Seeing as this Batiste dry shampoo was in no way superior to the Dove dry shampoo (and is more expensive), I'm not able to recommend this product. If you use the Dove dry shampoo correctly, you won't have any white residue in your hair, and your tub will definitely not be covered in brown stuff.
I'm always down to try something new, so let me know in the comments if you use another kind of dry shampoo!