Click here to see all of the previous Polish Project posts.
37. Sinful Colors Last Chance (BTW, Sinful Colors pulled some shady business, stealing images from bloggers. Read about it here. I will not be buying any more polishes from this brand.)
38. Sally Hansen HD Spectrum
I guess that Sinful Colors Last Chance is no longer available since I can't find it anywhere online. This is 2 coats of Last Chance with a layer of Sally Hansen HD Spectrum on top.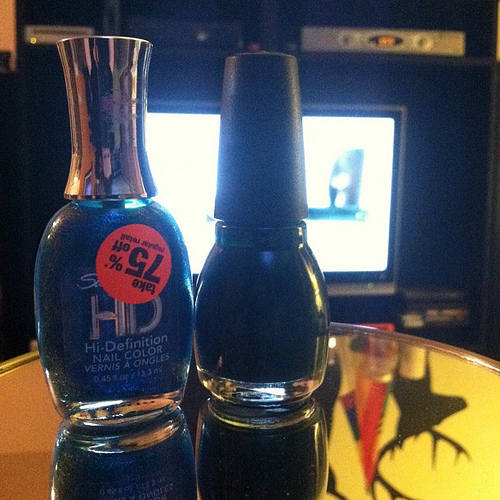 Isn't this a great photo of these bottles? Yeah I think so too. But you can see the reflection of my awesome wall deer, and that is important.
Thoughts: Last Chance is a basic polish in a nice forest green, and I love green so that's always good. Spectrum is another one from my hot deal party at CVS, and it did not disappoint. It ended in a sort of hidden duochrome that was impossible to photograph, but it confirmed my suspicion that these HD polishes might be AWESOME for staying power, because my last manicure with DVD lasted really well too.
Verdict: Both of these can stay. I tested green polishes after I did this manicure, so I will have to bring it out to compare with other greens at the end of this project.
39. Sephora by OPI Slushied – pinkie
40. Sinful Colors Savage – ring
41. OPI Suzi Says Feng Shui – middle
42. Sephora L23 – index
43. OPI Austintatious Turquoise – thumb
Blue polishes, part 1.
Thoughts: Slushied is an amazing polish. The color is great, the application is great, it's just a polish I love. Sinful Colors Savage looks way different on the nail than in the bottle, and it dries matte which is odd because there is no indication of that on the bottle. I covered in topcoat for shiny consistency. Suzi Says Feng Shui changes color as well, and goes on the nail as a sort of dark cornflowery blue. The Sephora L23 is a tiny little polish I bought in 2005. The color is awesome but it chipped like crazy. The OPI Austintatious Turquoise took 3 coats to become opaque, and I think I will need to bring back all blue-greeny shimmery polishes later for direct comparisons.
Verdict: I think I'm keeping them all. Now that I have a dotting tool I will be less interested in getting rid of any solid creme polishes since they are good for that.
More blues in the next post. What's your favorite blue polish?