Click here to see all of the previous Polish Project posts.
128. LA Colors Unnamed Magenta (from the set referenced here – can't find this online)
129. Milani HD
Holographic goodness on the right!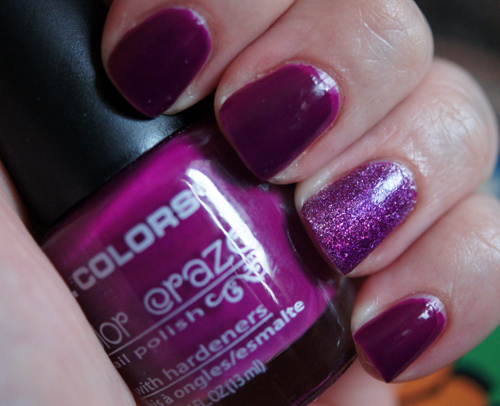 …and then it got weird.
So, this is another of the LA Colors set that I tried in the last post. This color is actually quite nice. There is really unfortunate applications issues there, and I can't figure out if it is just topcoat shrinkage or what. Anyway, the magic was that the HD polish, which is so silver looking in the bottle, turned into matching scattered holo when placed over the LA Colors.
Thoughts: As much as the color is nice, you can see what happened to me during application. I only needed to try one nail to know I was keeping anything from the Milani 3D Holographic collection.
Verdict: LA Colors gets shared, Milani HD stays. I can't wait to try the Milani HD over other colors to see if this is always the magic that will ensue!