Click here to see all of the previous Polish Project posts.
The only collection I have owned in full is the Burlesque collection. I got the whole thing for my birthday, it was fabulous. So much glitter.
Thoughts: I hate glitter application. What a pain. I can't get anywhere near the sides of my nails without covering my fingers in glitter. I end up having just not cute nails. Plus, TIP WEAR after like 2 hours. WTF. Naturally it also eats topcoat like crazy.
Verdict: Keeping it, I think I will probably keep the glitters to try doing gradients or something similar.
16. Wet n' Wild Gray's Anatomy
17. Sally Hansen In the Spotlight
The first manicure in the testing that I took off as soon as I was "finished."
Thoughts: Oh good god, this was just awful. The Gray's Anatomy is an interesting polish but application was a nightmare. Also they are lying about "fast drying." Although I will always default to thinking that I just can't apply something properly. The Sally Hansen Hard As Nails Xtreme Annihilating (or whatever) topcoat would be better if the glitter bars would distribute on the nail properly. No quick drying there too. Check out my middle finger being a hot mess.
Verdict: I guess I'm up for sharing these with someone else who is perhaps more patient? It's a silvery-purple duochrome, not bad in color, I just had trouble with application.
18. Wet n' Wild Eggplant Frost (hot deal at 99 cents)
19. NYC White Lights Glitter (this is an even hotter deal at 59 cents!)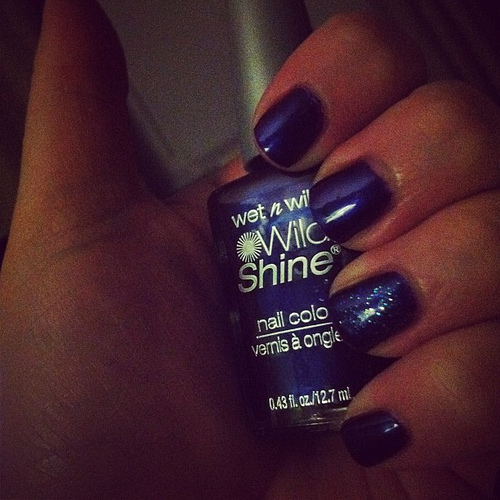 Not sure why I reached for another bottle of Wet n' Wild after the previous disaster, but the experience was much different.
Thoughts: Brush was a bit thin but allowed for more preciseness. The color doesn't really come across in my dark photo, but it's a blurple on the more purple side. It's lovely. I used the NYC White Lights Glitter sparkly topcoat as an accent nail, and wow, it really is the business. Great glitter distribution without covering up too much of the base color.
Verdict: These are staying on the shelf!
20. Milani Neon Pink Rocks
21. Sephora by OPI Flurry Up
This was a mixed experience, and I think my first jelly polish. Also to be noted that my husband thought this manicure was messy, and mostly he does not care so when he notices, that means something. He was also surprised to find out that I had polishes in my collection that I had never tried. I'm confused by this because I thought it was evident that trying them all was the point. Is it not obvious that there are polishes I own but haven't used? I don't know how many because I didn't get into that before starting the project.
Thoughts: This formula was sheer and a bit thin for my liking. After what seemed like 14 coats, I still had VNL (as seen in this blog here too, and apparently she only tried 2 coats), and so brought in my friend Flurry Up to assist. Flurry up is my favorite glittery topcoat ever. Big and small bits of glitter, and they spread out so nicely on the nail. I have to buy another bottle of this before it goes away. Or try others in the "Jewelry Top Coats" from Sephora.
Verdict: Someone else can try the Pink Rocks. Let me know if you're interested. Flurry Up is mine forever.
Another glitter from the Burlesque collection. After painting my left hand, I added thinner before tackling my right.
Thoughts: The colors are so fabulous, but the immediate tip wear happened here too. Is there a glitter tutorial I should know about to do better with these? It ate a ton of Seche Vite, and I think I will keep this on for a few days to do a better endurance test.
Verdict: I'm keeping it. I can't part with something this pretty. I'm going to have to test these glitters over another color at some point too.
3 posts in and I've tried 22 polishes. (I totally also caved and bought another one but we will talk about that later. I'm still acquiring about 99% less polish than I have been at certain times in the last few years.) I figure I will photograph my share selections and stick it up on Facebook soon to see who wants any of the ones that have been troublemakers for me.
Thanks for coming by to visit JamieSanford.com. If you enjoyed reading this post, please follow @JamieSanford on Twitter, subscribe to the RSS Feed or subscribe via email so you'll always be updated of my latest posts! Just enter your email address below and click the Subscribe button.