Click here to see all of the previous Polish Project posts.
105. Funky Fingers Reject (Not online, got it at Five Below.) (Also, the name is not Reject, I just rejected it and tossed it and don't know the name.)
106. Milani Silver Dazzle
107. LA Splash Midnight (Another one I can't find online, I don't remember where I purchased this one.)
108. OPI Suzi Skis in the Pyranees Suede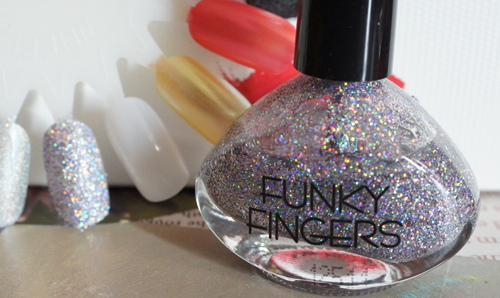 This is a shame, because you can see how pretty it is on the nail back there, and even in the bottle.
But the formula is a hot mess, so much so that thinner isn't going to cut it.
Thoughts: Pretty but a pain.
Verdict: Already went in the trash.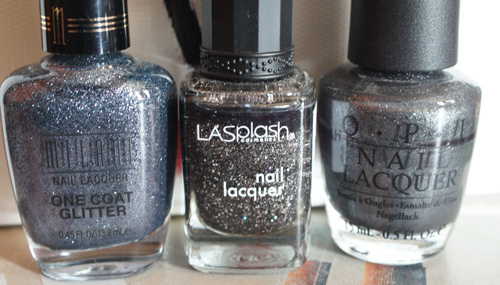 Milani Silver Dazzle, LA Splash Midnight, OPI Suzi Skis in the Pyranees Suede.
First up, a coat (just the one) of Suzi Skis in the Pyranees Suede, then alternating topcoat for shine. The index and ring fingers have Poshe topcoat.
Then added LA Splash Midnight over the middle finger, and Milani Silver Dazzle over the ring finger.
Then thought that Midnight might be a dupe for OPI's Metallic 4 Life from the Nicki Minaj collection. I will have to do a direct side-by-side but they appear to be quite similar.
Thoughts: I think that Suzi Skis in the Pyranees Suede is my favorite gray polish, but I prefer it with the topcoat. The glitters I tried here are also great. I will re-test Midnight and Metallic 4 Life in a future post.
Verdict: Everyone gets to stay!