Click here to see all of the previous Polish Project posts.
104. China Glaze Magnetix Pull Me Close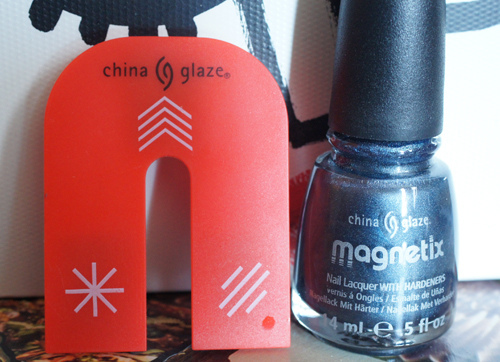 Here is the bottle of China Glaze Magnetix Pull Me Close with the magnet that I had to purchase separately.
Here are my results. My cuticles look a little sad.
Thoughts: I was excited about this, and I am confused as to how, again, I see gorgeous results on other people but I cannot achieve them. My technique is a million times better than it was 2 years ago but there are some things that I just don't get. I got polish sucked on to the magnet at least 5 times, resulting in removing all of the polish on the nail and starting again. I like the color, but the result isn't as nice as I wanted and I'm not sure I'm interested in nail polish that is guaranteed to stress me out.
Verdict: I guess share. I'm so annoyed with this.