Click here to see all of the previous Polish Project posts.
85. OPI InStyle Red (I got this for renewing my InStyle subscription. I can't find it anywhere online.)
86. OPI I'm Not Really A Waitress
87. OPI Ali's Big Break
88. Sephora No09 (Mini bottle that I purchased in 2005. No longer available, as far as I can tell.)
89. OPI Sanguine (from the Go Goth mini set)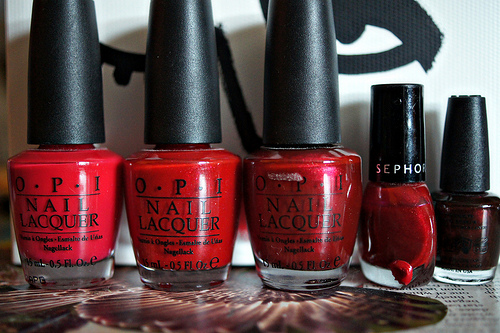 Reds! In order as listed above.
I tried out this picture and ended up really liking it. Obviously the nails on the wheel correspond to the blurry bottle that they are pointing to. I don't know why it took me so long to use a proper camera. Same order as listed above.
Close up of InStyle Red, I'm Not Really A Waitress, and Ali's Big Break. You can see the texture difference between the last 2.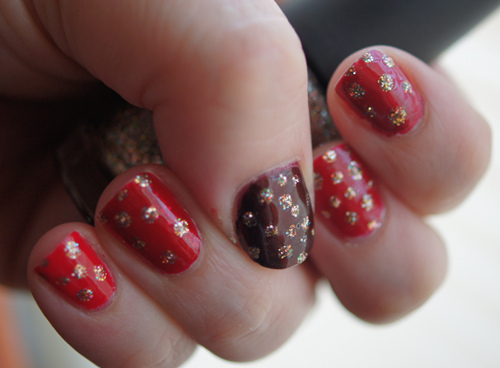 From the pinkie, moving right: InStyle Red, I'm Not Really A Waitress, Sanguine, Ali's Big Break, No09.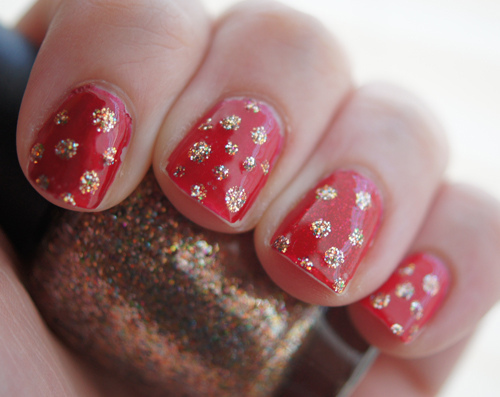 This shot is just to show the true reds without the random dark one. I also love that you can see my dots here.
Thoughts: InStyle Red is the most basic red I have. It's a great formula and application was great. Ali's Big Break and I'm Not Really a Waitress are really similar on the nail. The Sephora No09 had unfortunate application and wear, but the color is good. Sanguine is tricky to apply because of the teeny tiny brush but I love a vampy dark polish and this is it.
Verdict: InStyle Red is a keeper, as is Sanguine. I think Sephora No09 will stick around for dotting or sponging, since I don't think I want to use it as an actual polish again. I will have to pick between Ali's Big Break and I'm Not Really A Waitress, and Momcycle the one I don't want anymore.
Thanks for coming by to visit JamieSanford.com. If you enjoyed reading this post, please follow @JamieSanford on Twitter, subscribe to the RSS Feed or subscribe via email so you'll always be updated of my latest posts! Just enter your email address below and click the Subscribe button.