Click here to see all of the previous Polish Project posts.
49. Milani Neon Rad Purple
50. Milani One Coat Glitter Purple Gleam
51. Milani 3D High-Res
52. Milani One Coat Glitter Twinkle
Milani Purple Collection.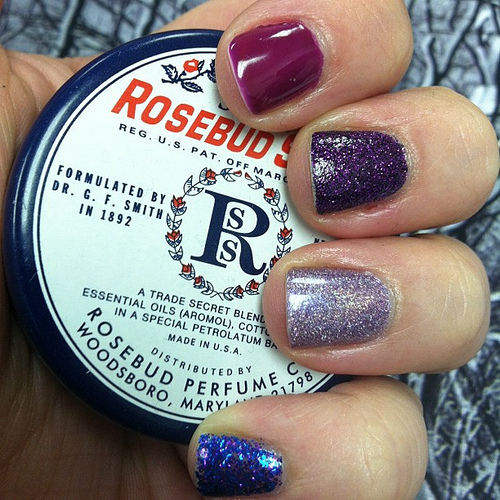 Milani purples, on the nail.
Thoughts: Milani Neon Rad Purple stained the crap out of my nails. I had base coat on, so this is especially impressive. Purple Gleam was sort of hard to apply but looked really nice on the nail when finished. Hi-Res is a holographic polish I've had for ages and never appreciated. I love that one. Twinkle is in the same collection as Purple Gleam, but Twinkle is really not meant to be worn alone, the glitter bits are too big for that. I will try it again over black.
Verdict: Everyone gets to stay except Rad Purple because I am throwing that one in the garbage. I can't recycle a polish that stained so badly.
Greens up next!
Thanks for coming by to visit JamieSanford.com. If you enjoyed reading this post, please follow @JamieSanford on Twitter, subscribe to the RSS Feed or subscribe via email so you'll always be updated of my latest posts! Just enter your email address below and click the Subscribe button.