Plumen 001 Designer Light Bulb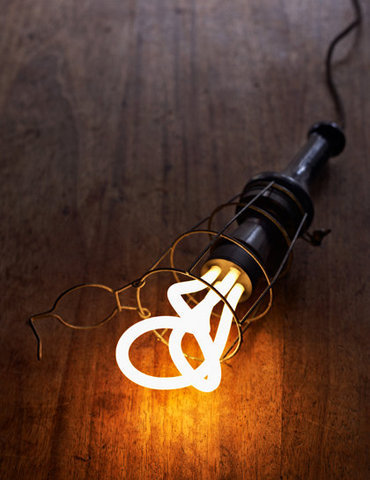 Function + Style + Environmental Friendliness = Win. I love being exposed to cute items like this amazing lightbulb.  It's got the fabulous lasting power and low energy features of your traditional compact fluorescent bulb, but with fabulous design that provides a different perspective from every angle.  Here's a group image:
And so you can end up with really interesting lighting by the way you twist your lightbulbs, like this:
Here are the specs for the Plumen 001 Designer Light Bulb:
The PLUMEN 001 is the world's first designer low energy light bulb.

The dynamic, sculptured form contrasts to the dull regular shapes of existing low energy bulbs, in an attempt to make the Plumen a centrepiece, not afterthought.

The PLUMEN 001 works like any other high quality low energy bulb – saving you 80% on your energy bills and lasting 8 times longer than a standard incandescent bulb.

It screws into any standard bulb fitting, gives off a warm white light and will work either shaded or even better, completely naked.
Thanks for coming by to visit JamieSanford.com. If you enjoyed reading this post, please follow @JamieSanford on Twitter, subscribe to the RSS Feed or subscribe via email so you'll always be updated of my latest posts! Just enter your email address below and click the Subscribe button.