I'm officially on vacation, I hope Owl Week entertains someone else other than just me!
Today, a gorgeous leather cuff with an owl from Etsy seller mdonnelly22, who has other great items including another owl cuff.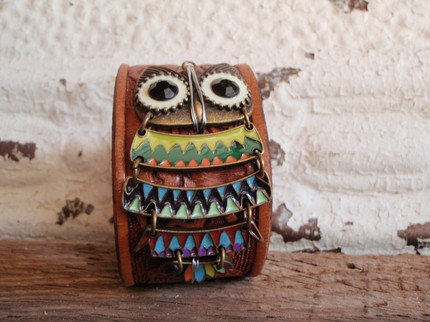 I love this – I'm all about the accessories with some personality and quirk, I know that I'm guilty of wearing way too much black, but bringing it with the accessories makes me feel better about it so I try.
This owl cuff is available for $25.
Thanks for coming by to visit JamieSanford.com. If you enjoyed reading this post, please follow @JamieSanford on Twitter, subscribe to the RSS Feed or subscribe via email so you'll always be updated of my latest posts! Just enter your email address below and click the Subscribe button.