This is a sexy v-neck t-shirt with words provided by Walt Whitman.
From BarkingIrons.com…
The title of a classic poem from the seminal American poet, Walt Whitman, who is celebrated throughout this collection. The earth and clouds in this image are borrowed from an actual illustration from one of the earliest editions of "Leaves of Grass" from 1860.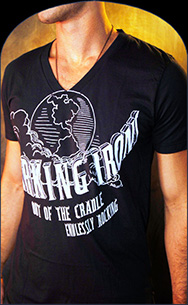 This v-neck t-shirt is available for $52.