Northern Leather is an Etsy seller based in Ontario.  I'm excited about this find because 1, I really like leather and 2, I like the idea of buying from an individual creating high-quality items.  All of these pieces look expensive, and yet I don't think any of them are cost-prohibitive.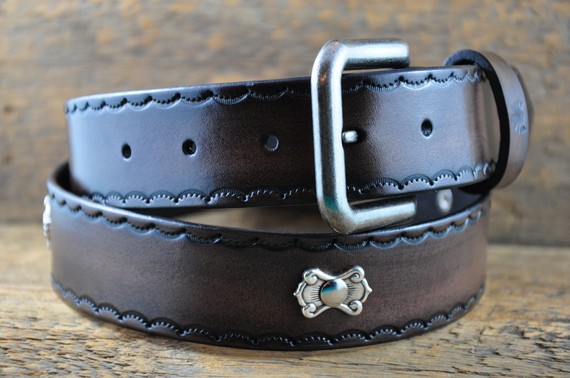 The Oak Leaf Western Belt from Northern Leather is available for $65 – different sizes can be ordered on an individual basis.
Product description:
Cut and crafted from the finest 9 oz. vegetable tanned leather, chosen for it's unique grain pattern. Hand dyed an antique black color which highlights the embossing and unique grain pattern of the leather. Polished to a glowing finish with a waxed top coat to protect the leather. Edges are burnished smooth, and borders are all pattern embossed.

This piece is adorned with five bevel conchos along it's length giving it special detail and adding to it's western theme.

Measures 1.5 inches wide, and features a heavy antique nickel silver "wave" buckle, with embossed keeper. Removable screw posts are incorporated, so that a different buckle can be used as well, making this belt very versatile.
Leather for the whole family, the Little Stud Collar is available for $25 from Northern Leather.
This black studded leather dog collar is a smaller size. It is finished in a smooth glossy black, and features 3 – .5 inch studs. It is .75 inches wide, and fits a 13-16 inch neck. It has a nickel silver buckle, and a generous sized nickel silver D ring designed to accept tags and leashes.
This is the Ancient Celtic Knotwork cuff, which is available for $48 from Etsy merchant Northern Leather.
This is my personal favorite, I would definitely wear this.
Cut and crafted from the finest heavy 9oz. vegetable tanned leather, chosen for it's grain pattern which features unique scarring and range marks. Hand dyed a rich antique black color, that gives it a cool vintage look. It was then treated with a wax top coat to enhance and protect the finish.

The highlight of this piece is the solid and thick metal endless knot pattern front and center which is surrounded by intricate embossed knot work patterns in the leather.

Fastens securely with two nickel silver dome snaps. 2.25 inches wide, and fits wrists 7 & 8 inches and under with two dome snap adjustments.
There are many more great leather items over at Northern Leather on Etsy, go check it out now.