(Today's guest post was contributed by Kelly Kreth. I "met" Kelly online around 10 years ago, and since then she's made me jewelry, she's been the subject of one of the best photos I've ever taken, and thoroughly kicked my ass in Facebook Scrabble. Check out her blog which explores optimism and pessimism with great humor and frankness. Check out Part 1 of Kelly's Holiday Wishlist here, and Part 2 is here.)
Kelly Kreth's Super Fabulous Wish List:
The fact is that the economy sucks, and I'm not really working (if anyone has a writing or marketing communications management job available, please let me know), so there won't be anything in my stocking this year. There won't even be any stocking. Bah Humbug!
However, there will be socks…at the very least, on my Holiday Wishlist:
A fellow blogger, Amanda from Noisiest Passenger put these up on her wish list, and I love them. They kind of look like cross between the socks I had in the '70s and modern-day Missoni. At Muji.com you get five pairs of reused yarn socks for $17.50! That is a really good deal. The only issue is that if you order online, I believe they send you whatever colors they have. Amanda recommends going to the actual store so you can pick out the colors you like and can see the sizing firsthand.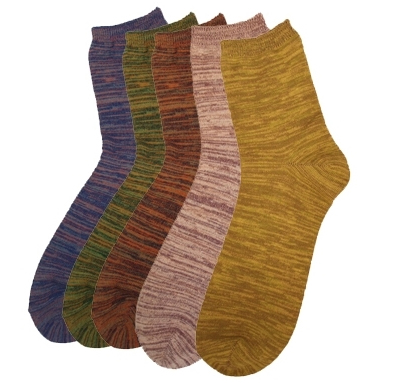 While we're on the subject of feet, if you are less about wool socks and more about glam high heels, YSL Tribute Sandals are so gorgeous. They have the perfect size platform and come in great colors. The only thing I find odd is that the colors Iris and Nude are $760 and the Red sandals are $795. I'm really curious why one color is priced higher than the others. No matter, I'd kill for a pair of the nude ones.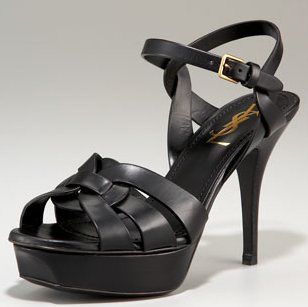 Another blogger recently did an entry about wallets and there was one that seemed to stand out from the rest. This Proenza Schouler beauty, called the PS1 wallet, will run you $165. It comes in a great variety of colors, but my personal favorite is the one in yellow.

Now that we are done talking about feet and leather (some people's idea of a good night out…) let's talk a bit about coats. I have found a bunch on ModCloth that I would love to sport around the City. Be sure to check out their whole coat section.
My favey fave is the Dachshund coat because, well, I have one. Danish designer Nümph has created one of the most unique coats I've seen. For $209.99 you'll have something soft to touch without all of that nasty barking.
Speaking of which, I actually own this but have washed it so many times I need a new one. [They are not supposed to be washed.] Amazon lists it as being out of stock. I got mine at Target but can't find it there now. It is a popular item you can surely find by Googling "Dachshund Doormat". It is $19.99.
(Note from Jamie – I found a selection of dachshund doormats, including the one Kelly mentioned, on this site.)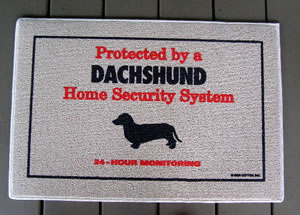 I almost exclusively write with a Sharpie, but I suspect a Sharpie by another name—if that name is Marc Jacobs—is even sweeter. At only $1.50 they make great stocking stuffers.

Last year I set the goal of rereading all 56 original Nancy Drew books. I am almost there—just about 6 to go! While the whole collection would make a great gift for any girl detective aficionado, I've had my eyes on Nancy Drew Note Cards (each with the picture of one of her books on the cover), $13.00 for 20. Check out the Sleuth Shop's website for so many other Nancy Drew-related items, including jewelry, stationary products and even purses. It's a mystery to me how anyone, young or old, could not love these.

I love sending people postcards, but always ones that are modified in a way that they are more art project than basic quick note. When I saw this mug, masquerading as a post card I flipped. I liked how original it was. It is available at Target for $49.99 in Target's monthly Red Hot Shop area.

In that same vein of 'if you like it, put a note on it', check out these Memo Cannisters ranging in price from $9.99 – 19.99. Nothing says "Merry Christmas" like writing "Merry Christmas". Chalk not included.
Speaking of the kitchen, Nigella Lawson is one of my biggest celeb crushes. There's just something so sensual about the way she describes cooking and eats with her hands, thoroughly comfortable with herself. An ex-boyfriend once got me her cookbook, Forever Summer and it is fabulous. One of my favorite things to make in the summer is her Happiness Soup which consists of yellow summer squash, rice, chicken broth and lemon. It's amazing how something so simple can be so good!
What better way to end Kelly Kreth's Holiday WishList 2010 than with Nigella's whole cookbook collection. Approximately $23.10 each volume. Last year I even got to hear her talk about her holiday one while she was at the Barnes and Noble by my house.
She is also the person who taught me how to make ice cream without an ice cream maker. Thanks to Nigella I've made Margarita Ice Cream, White Russian Ice Cream and Sweet Cream Ice Cream all with only a freezer and a Tupperware.
So Happy Cooking, friends, and more so, Happy Holidays.