I was introduced to Irregular Choice earlier this year when Gala Darling posted about their shoes after a trip to ENKWSA, a footwear trade show!  This is another brand that is serving a lot of fun color and texture, and none of the shoes in this post cost more than $200.  Let's check out some standouts that I found on the IC website.
These are a whole season (summer, naturally) in a single shoe.  Ain't What by Irregular Choice, $145.
I'll tell you why I love these so much.  They DEFINE how I feel about black items being more than just black.  Look at the heel!  It's a kitten heel, but the most interesting kitten heel you have ever seen. Drive in Movie by Irregular Choice, $155.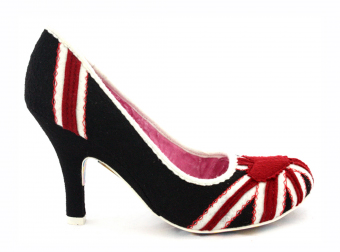 The Anglophile in me loves anything with a Union Jack.  These shoes fit the bill.  Patty by Irregular Choice, $120.
HOLY CRAP look at these.  I wear pants a lot, and I would find a skirt to wear with some dark tights if these shoes were in my life.  Not so much shoes for the office, but that are perfect for a fabulous night out.  Mayhem by Irregular Choice, $195.
Check out the entire Irregular Choice line here.  Which shoes are your pick?