Here are all of the other Instagram Roundups!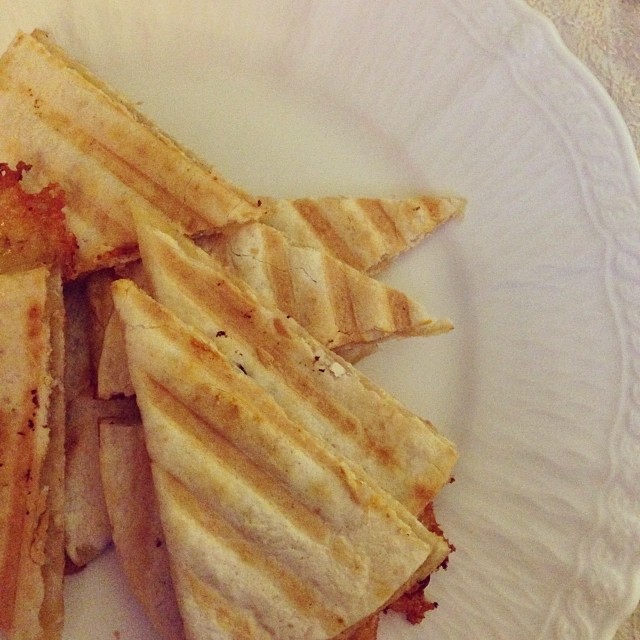 Will makes my favorite quesadillas, especially when he makes the stuff inside them. This time it was shredded chicken. We have been using a lot of our new Noritake Cher Blanc place settings.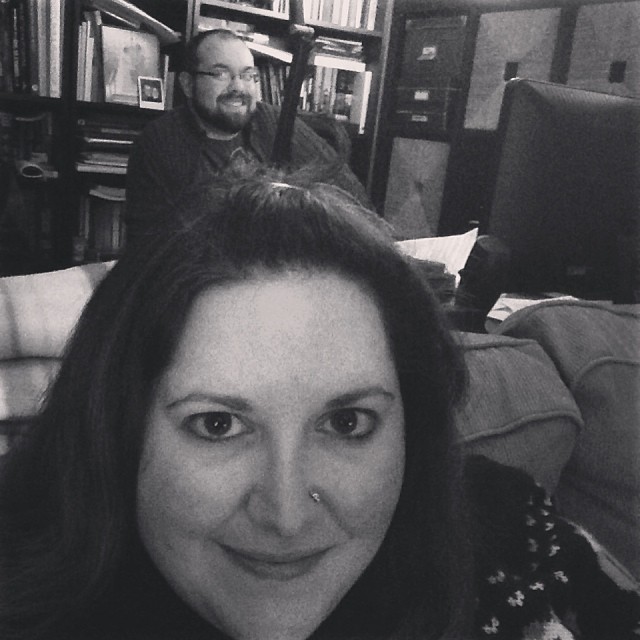 Here we are, hanging at home on New Year's Eve because we were just in the mood to be home.
I went through my makeup storage a bit, and I really don't need any more eyeshadow palettes. I have declared 2014 the year that I will master blending eye makeup.
Throwback Thursday! That's me in the little fringe skirt at a dance recital.
As soon as we left our house on January 1, things started going wonky. First, the car would not start. Dad thought over the phone that it might be the starter, so we figured we would call AAA for a tow to the repair shop. The AAA driver told us it was actually the battery, and gave us a jump. We went to AutoZone and purchased a new battery, then came home so Will could put in the new one, and then we found out that we did NOT have the correct tools for this endeavor. We left the new battery in the back of the car, then drove it to the repair shop, dropped the key in the slot, and then left a voicemail at the shop, asking them to install it. It wasn't until I was forced into a rental car on January 2 that I realized that without warning, the shop was just closed. So we ended up buying tools that night, and Will installed the new battery in the parking lot of the repair shop, who still have my other car key. Immediately after this, I returned my rental car and totally locked my bag inside it and then dropped the keys in the little slot. (Luckily we were able to get my bag back on Friday.) When we finally made it home, Will broke a tooth on a Swedish Fish, because that's just how 2014 was going.
Desperation sunglasses were in full effect when Will ventured out on Friday. It was crazy bright.
Ugh. First of all, spot saving is not allowed in our complex, which has open parking. Second, the point of the chair is that you are supposed to dig the spot out and THEN put the chair in so your work gets to remain yours.
I was excited for Saturday, since I had a dinner date planned with some friends. I then managed to ruin my evening by grabbing the curling iron set to 450 with my left hand. I was absolutely unable to have my hand out of the water for about 12 hours without starting to cry because of the pain. I slept with my hand in a bowl of water. Seriously. I woke up on Sunday morning, and found that my hand looked dessicated and terrifying because of being in the water for so long. Luckily, it seemed to work WONDERS on the burn. It turns out, your body heat will continue to make a burn worse during the time immediately following the initial burn. I guess my 12 or so hours of keeping the heat away from my hand in the water plus insane moisturizer did the trick, because the areas that were burned are SO much better than I thought they would be. I understand that the skin will probably look worse in the next few days, but I'm so happy that I'm not a complete hot mess anymore. Here's to the rest of 2014 being WAY better than the first few days.