Apologies for being behind on posts, it's been a busy time recently.
Today, a sexy candle from Archipelago Botanicals.  I smelled this candle on a recent shopping trip and the name Havana does seem to fit.  I should have bought one and I think I will be obtaining one soon.
Archipelago Havana candle blends bergamot, cuban tobbaco leaf & ylang-ylang for a rich, smoky sexy scent.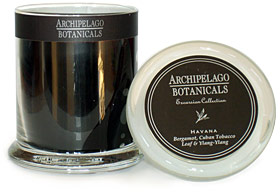 The candle is available in multiple sizes, in prices ranging from $7.50 to $30, from Candle Delirium.
Thanks for coming by to visit JamieSanford.com. If you enjoyed reading this post, please follow @JamieSanford on Twitter, subscribe to the RSS Feed or subscribe via email so you'll always be updated of my latest posts! Just enter your email address below and click the Subscribe button.