Apologies for being behind on posts, it's been a busy time recently.
Today, a sexy candle from Archipelago Botanicals.  I smelled this candle on a recent shopping trip and the name Havana does seem to fit.  I should have bought one and I think I will be obtaining one soon.
Archipelago Havana candle blends bergamot, cuban tobbaco leaf & ylang-ylang for a rich, smoky sexy scent.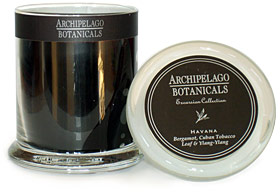 The candle is available in multiple sizes, in prices ranging from $7.50 to $30, from Candle Delirium.