I grew up in Florida, so I cannot resist the creepy lawn flamingos, skeleton-style.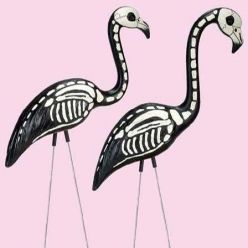 They glow in the dark! If you click through, you can see a small picture of them in the dark – I couldn't find a bigger version to share here.
Anyway, I'm not sure if these would fly (pun totally intended) anywhere but in the south where tropical birds (and the flamingo lawn phenomenon) are more rampant, but to each his own. Amazon will send you the flamingos no matter where you are.
The set of 2 flamingos is available for $16.33 on Amazon.
Thanks for coming by to visit JamieSanford.com. If you enjoyed reading this post, please follow @JamieSanford on Twitter, subscribe to the RSS Feed or subscribe via email so you'll always be updated of my latest posts! Just enter your email address below and click the Subscribe button.