Online shopping can be just as exhausting as in-store shopping, especially if you're frustrated about not being able to find what you want. It's easy to go on Amazon and look for things, but now is the time to start shopping the smaller vendors that are still offering guaranteed delivery by Christmas.
One of my favorites is Fred Flare. If you order by EOD on December 17th and spend more than $75, you get free shipping! In addition, their page with shipping info and delivery times is really well done, and I have great appreciation for that.  Here are some of my favorite items from the Fred Flare site.

Sparrow Hooks!  The set of 2 is available for $20. I've been trying to find a way to hang my purses on the wall in my bedroom without it turning into a hot mess, and I think that cute hooks like this might be the answer.

Skull Christmas Tree Ornaments! $18 for the set of 4. This perfectly combines my love of gold tree decor and skulls on things.  My whole tree is scattered with gold, I would have to buy at least 2 of these sets so that I could have the gold skulls spread throughout the tree.  I wonder if they will be on sale after Christmas?

Russian Nesting Doll Measuring Cups.  These are very cute, can totally sit on the counter, and don't take up the weird space in drawers that my current set of measuring cups does.  The Russian Nesting Doll Measuring Cups are $16.

The positivity glass.  I do not tend to always be the most positive individual, so this would be a good reminder that my glass really is half full and that I should quit my bitching.  $14 from Fred Flare.

I would not have this in my house because I'm sure my husband would be very WTF IS THAT about the whole thing.  Even though you could definitely store something in here that isn't lollipops but is still on a stick of some sort.  Mostly, I enjoy bird things.  The Jonathan Adler Peacock Lollipop Holder is available for $99.

What did I say about birds? That goes almost double for owls these days.  I have a few owls on my tree, I wore an owl necklace yesterday, but that doesn't mean I wouldn't like another, especially if it is this cute. $22 at Fred Flare.

Forget Me Knot Ring – I don't care so much about the implication that this ring will help you remember anything, I just think it is really cute.  It comes in silver or brass, either choice is $54.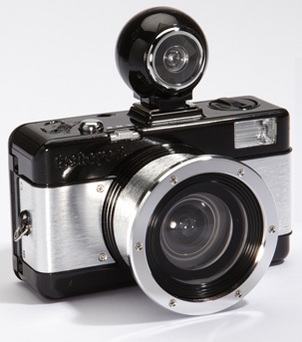 Photography is my other great love, and I would buy cameras all day if I had money and space.  Fisheye lenses for my DSLR would cost me at least $500, so this cute camera for $75 is a great deal.  This is actually a film camera though, so that has to be kept in mind as well.
So that's it for my Fred Flare current favorites. I am always on the lookout for new stores to check out, let me know what your favorite online shops are so I can shop there too.