Click here for all Formula One-related posts on JamieSanford.com.
Austin race! Everyone seems to really like going to Texas. I think I might have to go to this race next year.
The week prior to the race was a bit sad when we found out that both the Marussia and Caterham teams had been given permission to miss the next 2 races without penalty fees. Both teams are financially strapped, causing a lot of drama within the smaller teams. The larger teams with more money build better cars, get more points, win championships, which gives them more money to start the process over. Small teams have a much harder time. Hopefully everyone will be back for the race in Abu Dhabi.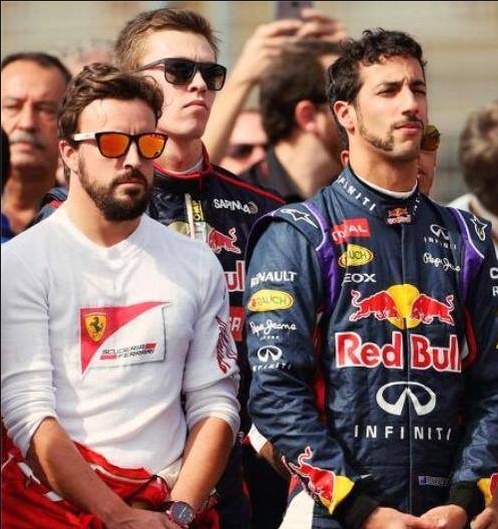 Honestly, I almost don't need to post anything else than this beard shot of Fernando Alonso and Daniel Ricciardo. We are also getting 80s teen movie villain realness from Daniel Kyvat in the back there. (Source)
Lewis Hamilton was on a roll with 4 wins in a row. His teammate Nico Rosberg managed pole position during qualifying, which made me a bit nervous.
Not sure why they have Astroturf on the track like this. Green paint would suffice. (Source)
After an AWESOME race with lots of wheel-to-wheel action (so much better than the boring race in Russia), Lewis won! (Source)
He even stole Mario Andretti's hat because this year's podium hats were not Stetsons! Weird. (Source)
Great graphic of the standings after the race in Austin. (Source)
Fernando and his triumphant beard took photos of snakes and squirrels on his jog in Texas. I'm guessing they don't have those in Spain? (Source)
The race in Brazil is this coming weekend, and the final race of the year is on the 23rd in Abu Dhabi. We will be at the last race so the blog post will be delayed and also probably really long.