Click here for all Formula One-related posts on JamieSanford.com.
Be sure to check the Formula One wiki for more complete results, or visit Planet F1.
Photos are from Planet F1 unless otherwise noted.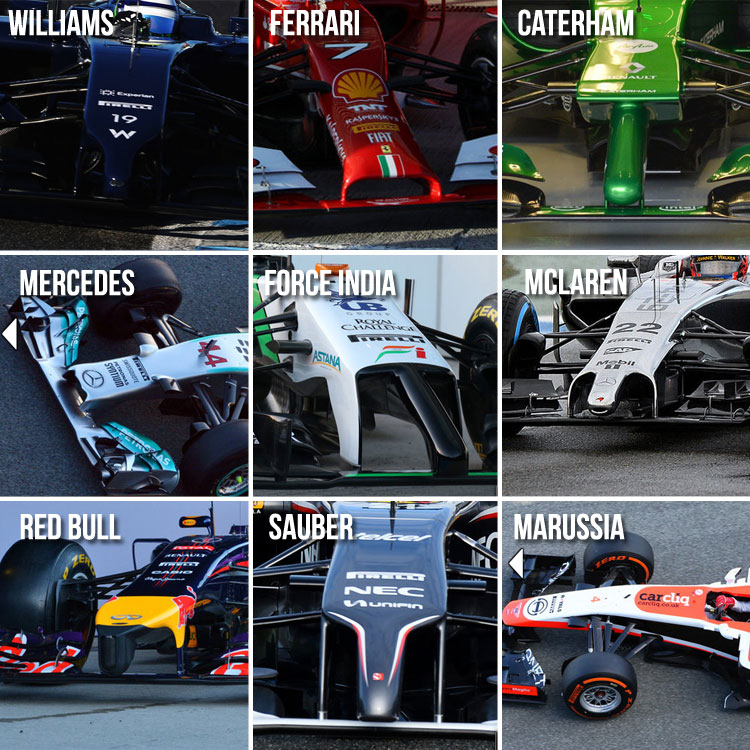 Oh, the noses. (This is a selection of noses – the Toro Rosso nose can be seen here, and Lotus didn't come to testing, which might have been the better choice. More on that in a minute.)
These noses are all in response to the new specs that the cars have to meet in 2014. The rumor is that everyone made a random nose, and that none of these will be the real deal when the first race rolls around. Lots of inappropriate jokes about the phallic nature of some of these flying around online, but really, look at them. Some of these are ridiculous. So far, the Marussia car looks to be the most attractive in terms of body shape.
The testing in Jerez, Spain, is an annual event, but this year was surprising to most given the multitude of issues experienced by cars powered by Renault engines. The Red Bull, Toro Rosso, and Caterham teams all had little to no running time due to major engine problems, and Red Bull shut down their test shortly into the final day. They will have another opportunity to test at an upcoming tire test happening in Bahrain, but still, not a good sign for the preliminary portion of the season. It will be super interesting to see how that goes.
In other news…
Kamui Kobayashi is back!
Lewis Hamilton has more hair this year.
I'm guessing that Lewis isn't familiar enough with the aero behavior of the new hair, because this happened.
Daniel Ricciardo looks pretty happy, especially given that his shiny new Red Bull was a POS all week.
I truly hope that all of this buildup will make for a ridiculously unpredictable season.