Click here for all Formula One-related posts on JamieSanford.com.
Check out the Formula One wiki for more information.
Photos from Planet F1 unless otherwise noted.
Everyone came to Spain with upgrades for the cars. Ferrari has a different front wing.
Fernando Alonso got the front wing, and Kimi Raikkonen got a new rear wing. The testing paint was out on Friday!
Huge changes to Sebastian Vettel's car lead to a complete electrical failure during the first practice session. It wouldn't totally ruin his weekend.
My feelings for Fernando Alonso continue. The man is ultratalented and has been with a legendary team for years that just hasn't been able to deliver him the car he deserves. He now has to watch his old teammate Lewis Hamilton raking in the wins while he's fighting with Kimi Raikkonen for 5th place.
Also, that weird image of him on the wall is kind of creepy.
(source) During lap 1 of qualifying, Pastor Maldonado spun in the corner and then just kept his foot on the gas, and plowed into the wall. This guy is the hottest mess.
Hamilton took pole position again! Nico Rosberg and Daniel Ricciardo were P2 and P3.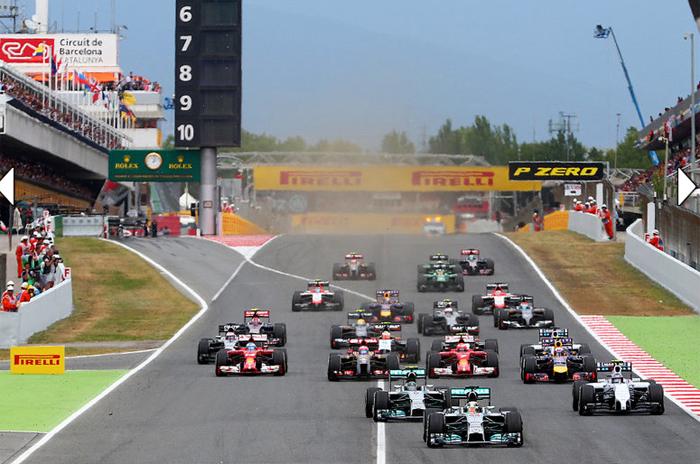 Lewis led from the start, but there was a lot of movement. Valtteri Bottas jumped at the start, but it wasn't too long until we were back to a Mercedes 1-2.
I don't have a lot of images from the race, but it was fun to watch. Sebastian Vettel qualified P10 and then earned a grid-spot penalty for changing his gearbox. He started in 15th and then just WORKED the whole time and ended up finishing 4th. Such good passing from him, and obviously we know that the Red Bull car isn't awful. We all know I'm not his biggest fan, but I like him a lot more when he showcases that he's talented. It's hard to do that from the front all the time – but I already know that Lewis is a great driver, so he can stay up there all season.
Lewis wins again! That's 4 in a row! Nico Rosberg finished right behind him, again, and Daniel Ricciardo finally got his first real podium in Formula One.
Monaco is this weekend!