Click here for all Formula One-related posts on JamieSanford.com.
Be sure to check the Formula One wiki for more complete results, or visit Planet F1.
Photos are from Planet F1 unless otherwise noted.
Images in this post are also from Getty Images.

Why they call it the "prize-giving gala" instead of "awards ceremony" or "annual gala," I will never know.
Sebastian Vettel arrives to pick up his 4th driver's championship trophy.
Fernando Alonso came to pick up his trophy with girlfriend Dasha Kapustina. She's a model and she is 23. She seems very cool based on her Twitter.
Mark Webber, you will be missed.
Is there ever a time when Bernie Ecclestone doesn't look like he is up to something?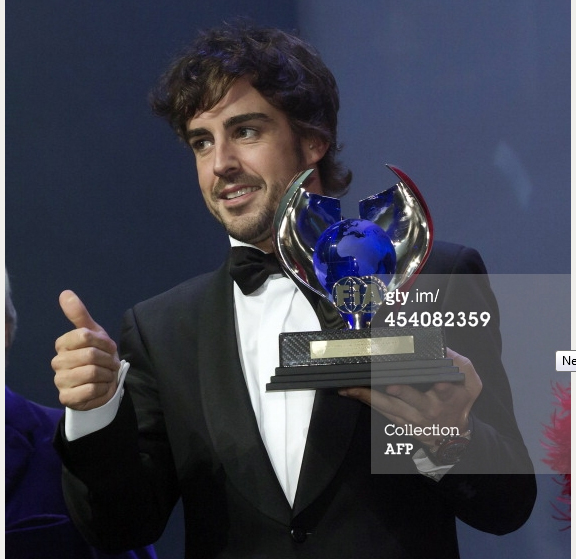 (Getty image) Alonso with his trophy.  I actually like the design of the trophy a lot.
(Getty image)Webber has a trophy from his last year in Formula One. We love you Mark, and you are going to give Patrick Dempsey a run for his money in the "hottest man in endurance racing" contest.
(Getty image) Why did they make Vettel pose with this almost-naked showgirl? I'm confused at the absolute lack of context here.
I'm going to work on keeping the Formula One posts alive during the off-season. There is news and such to talk about, so I'll be back soon on new driver pairings etc.