Formula One in 2012 is AMAZING so far, and China was no joke. I had been hurting for some racing action in the 3 weeks between Malaysia and China, so I was super excited to watch practice, and of course, qualifying. I also had a connection that allowed me to watch the race coverage from the BBC, which is way better than the Speed coverage, which has commercials! During the race! WTF!
China
Anyway, I half-watched practice coverage for the Chinese Grand Prix from Speed, and then was pretty surprised during qualifying, when Mercedes driver Nico Rosberg claimed pole position, with his teammate and F1 legend Michael Schumacher in 3rd position on the grid. Lewis Hamilton split them up, but he's been doing well in quali all season so this was not surprising.  Lewis would be dropped to 7th on the grid though, as he changed a gearbox and so had to deal with the penalty.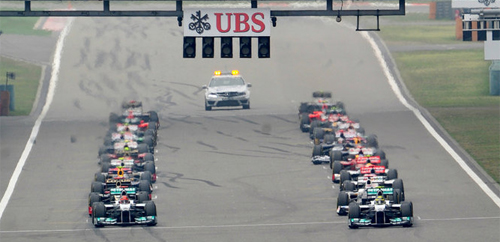 The grid. Photo from PlanetF1.
The Mercedes cars had a wonderful start and Nico Rosberg started to build his lead very early, with Schumacher holding back the rest of the pack quite well. That lead would last throughout the whole race, Rosberg only losing the number 1 spot due to the staggered nature of pit stops.  Unfortunately, a pit stop sidelined his teammate, Michael Schumacher, who devastatingly had to retire from the race when his front right tire was not actually attached to the car when he pulled away.
Nico managed to maintain his lead, while there was a massive competition for the following podium spots. There was a train of cars throughout the race which I have not seen in my short time as an F1 fan, and tire strategy ruined podium opportunities for both Kimi Raikkonen and Sebastian Vettel, who tried stopping only 2 times only to have their tires just fall off the cliff, with no grip or performance left.  Jenson Button and Lewis Hamilton from McClaren, and then Mark Webber from Red Bull, ended up passing Vettel toward the end of the race, but the victory was all about Nico Rosberg, who was 21 seconds ahead.  It was Nico's first Formula One victory, and was fun to watch him celebrate.
Go Nico! This picture is also from Planet F1. Click the link to see their whole gallery of photos from the race.
Bahrain
The Bahrain race was dramatic weeks before it even took place. There was a lot of questioning around the race due to the ongoing political unrest there, a situation that caused last year's grand prix to be cancelled.  Bernie Ecclestone was not about to lose any money, so he said that the government of Bahrain ensured that everything would be OK.
Things were obviously not all sunshine and flowers, because some Force India mechanics left Bahrain before the race, after being subjected to a close call with some molotov cocktails thrown by protesters. The Force India team ended up skipping the 2nd free practice session, apparently to get all of their team back into their hotels before nightfall.
So, onto the race. After a slightly mediocre start to the season, the 2-time champion Sebastian Vettel managed to claim pole position during qualifying. His stupid finger pointing came back with a vengeance, because you know that he missed it. Ugh, I am still not a fan of him at all. Usual suspects Lewis Hamilton and Mark Webber rounded out the top 3. My boy Paul di Resta made it into Q3, but didn't take part and would start 10th.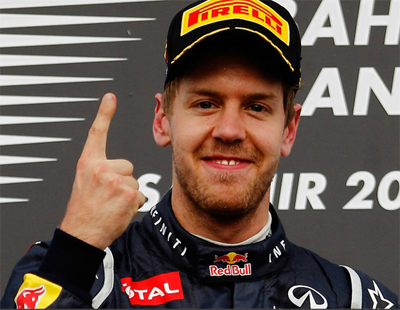 Barf. But PlanetF1 is cool and this is their photo.
The race was a combination of what we saw in 2011 and so far in 2012. Sebastian Vettel led from pole and maintained his lead throughout the race (except for weirdness during pit stops), but the rest of the podium was filled with Lotus drivers Kimi Raikkonen and rookie Romain Grojean. Raikkonen had some close calls where it looked like he would pass Vettel, but unfortunately, he just didn't have enough.
2012 so far is still amazing. 4 races, 4 different winners, and a large number of different people who have had podium spots, instead of just Red Bull, McClaren and Ferrari all the time. There are enough drivers to have a different winner for every race of this year, but I find it unlikely that an HRT driver will be winning a race this year.
Spain in 3 weeks!