Click here for all Formula One-related posts on JamieSanford.com.
Check out the Formula One wiki for more information.
After the last race in Bahrain was so amazing, it was unlikely this one would be as exciting. It wasn't, but it wasn't boring either!
(source) What the hell, Fernando.
(source) After qualifying, the Red Bulls had managed P2 and P3 on the grid, and Lewis Hamilton managed to get on pole again!
(source) This is a great track. Lots of straights for passing with some serious turns.
(source) The start. Watch the white car that darts out on the left and then back to the middle, and you can see the contact between Felipe Massa and Fernando Alonso. Luckily, both of them continued on without difficulty.
(source) Lewis took off and was never seen again. Luckily, fighting was happening on the track, including an exchange between the Red Bulls. During the last race, the team told Vettel to let his teammate Ricciardo pass, and he did. However, this time, he asked back which tires Ricciardo was running, and once he found out they were both on the same tires? "Tough luck" was all he said before not letting Ricciardo pass without a fight. As much as it looked like Vettel was showing us a little bit of a friendlier side, it's clear that he is not totally on board with that.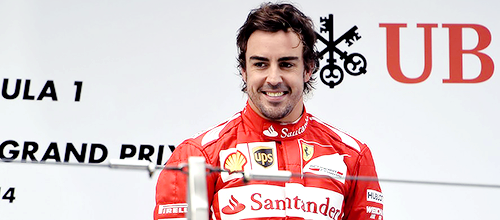 (source) The other great fight of the race was in Fernando Alonso, who I have enjoyed watching for so long, and the reason that his fans are so into him is because he's been driving a sub-par Ferrari for years and still giving it everything, and even got a podium result this time!
(source) Go Lewis! Also, thanks for helping me take the lead in our fantasy league.
(source) European races start in a few weeks in Spain!