Click here for all Formula One-related posts on JamieSanford.com.
Check out the Formula One wiki for more information.
Photos from Planet F1 unless otherwise noted.
Holy crap this was exciting.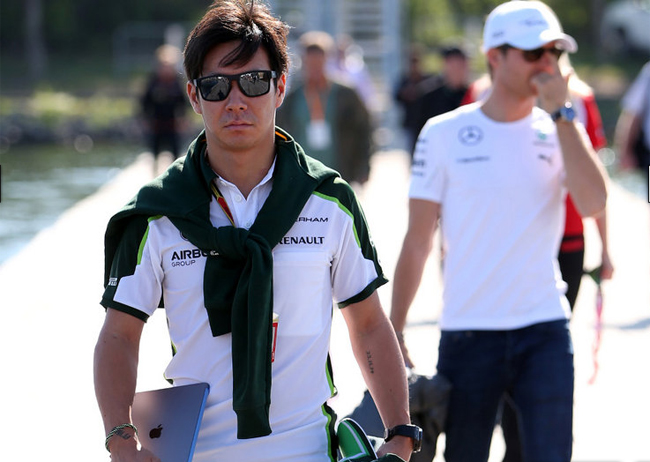 Walk walk fashion baby! Kamui Kobayashi was giving us country club realness.
It looks like Lewis and Nico are talking to each other again.
(Source) Qualifying was yet again a nailbiter at the end, where Lewis Hamilton and Nico Rosberg were fighting it out. Nico didn't cheat this time, but still managed to take pole position by hundredths of a second. I was sad for Lewis again. Sebastian Vettel looked strong with a 3rd place qualifying finish.
(Source) The start was pretty exciting. Lewis tried so hard to pass Nico before turn 1, but failed and wound up behind Vettel, in 3rd place. I knew he would pass Vettel because the Merc is just faster, but there wasn't a chance in the first 8 laps because this crash between the 2 Marussias resulted in a safety car. Pieces of this car were up in the air flying around, and we even saw some of them hit the rear wing of Pastor Maldonado's car. He isn't my favorite but that must have been terrifying.
It was soon enough a Mercedes 1-2, and that lasted through the second round of pit stops. Unfortunately, we soon found out that there were electrical problems with the Mercedes cars and shortly thereafter, Lewis Hamilton retired from the race. I'm surprised I didn't cry because I was devastated for him. Also sort of hoping that since he had the same issue, that Nico would retire as well, to keep the driver's championship close. After this, Nico's car was clearly not running up to par, as he was unable to keep himself 40 seconds in front of the pack. He ended up with Sergio Perez and Daniel Ricciardo hounding him. Perez was passed by Ricciardo after identifying brake problems, and Rosberg was trying to hold on, to no avail. Ricciardo used the DRS system to pass Rosberg without any trouble.
Meanwhile, Felipe Massa had a FAST car with the Williams and was quickly catching up with the pack at the front. He was behind Sebastian Vettel and the impaired car of Sergio Perez, and he looked capable of passing them both. During the penultimate lap of the race, however, this happened:
(Source) Look at Massa's car going right in front of Vettel's. HOLY CRAP.
From Vettel's onboard camera (source):
Here's a still: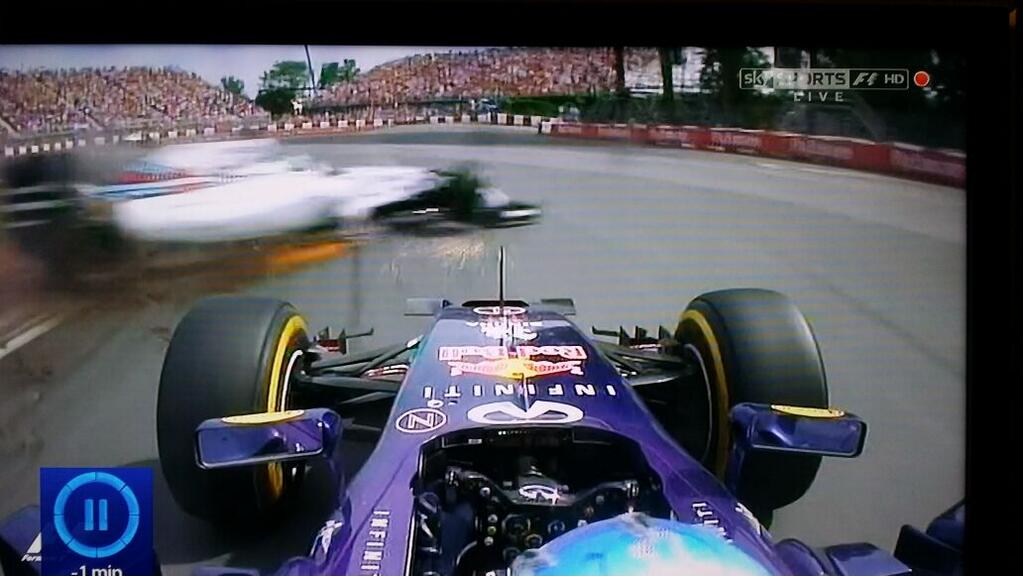 (Source) Vettel is SO LUCKY.
Safety car came out immediately, as did the medical cars to check on Perez and Massa who had serious impacts. Ricciardo wins his first grand prix!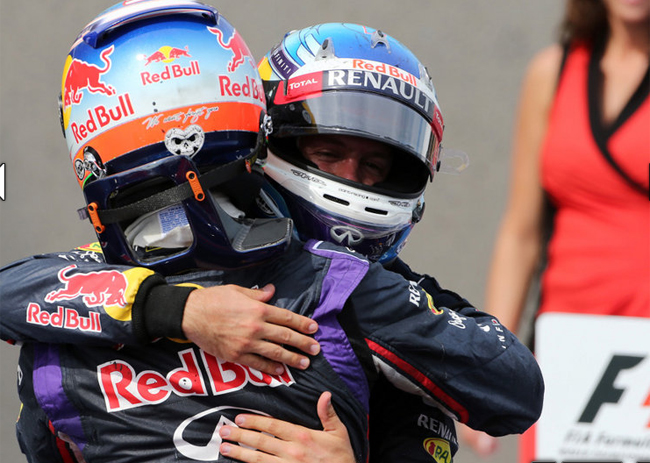 Vettel celebrated with Ricciardo after the race. Classy.
This smile LIGHTS UP Formula One.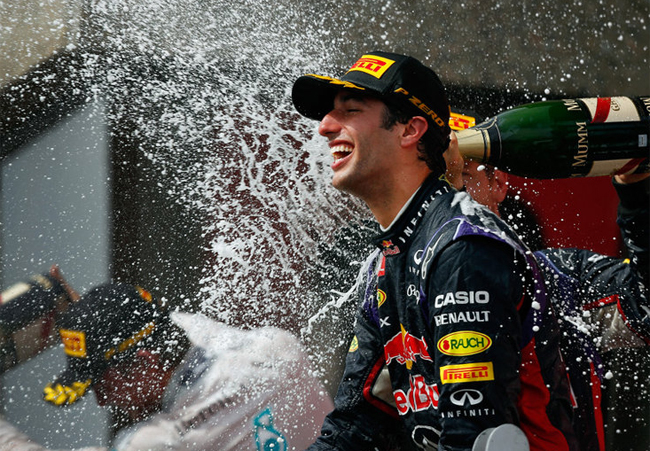 See, the champagne photos don't have to be completely unfortunate!
(Source) This is not necessary.
Congratulations Daniel! No one is mad at your win.
New race in 2 weeks! Austrian Grand Prix!