Click here for all Formula One-related posts on JamieSanford.com.
After the brutally long break, which is just long enough to make me crazy, we got to start the season in Spa!
(Photo from Planet F1 – check out their gallery here)
Way to restart the season with a big CF. (That's clusterf*ck, if you didn't know.) After all of the buildup and waiting during the break, Romain Grosjean of team Lotus went a little nuts during the start of the race and ended up causing a huge accident by first hitting Lewis Hamilton of McLaren Mercedes, who lost control and veered, and Grosjean's car ended up flying over the front of Ferrari's Fernando "Eyebrows" Alonso's car, which was really terrifying for everyone. The damage was a big hot mess, but luckily, everyone walked away without injury.
I'm having embedding issues but you can see a gif of the action from Alonso's onboard camera here.
MEANWHILE, my boy Jenson Button of McLaren Mercedes had scored himself pole position, an amazing spot to be in when everything is hitting the fan behind you. The safety car was deployed for a few laps after the big crash on the first turn, and Jenson had maintained his position. Red Bull's Sebastian Vettel avoided the melee and ended up moving into 2nd from 10th on the grid, Iceman Kimi Räikkönen was 3rd for Lotus, and making me more nervous than ever for Paul di Resta was Nico Hulkenberg, finishing 4th for Sahara Force India.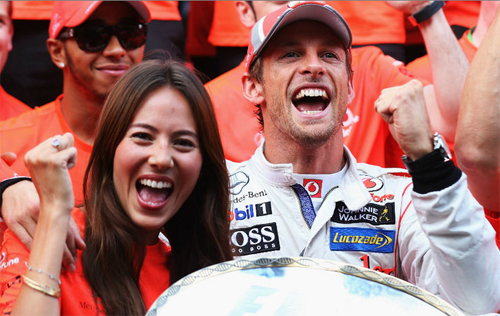 (Photo from Planet F1 – check out their gallery here)
Jenson celebrates with the team and his girlfriend Jessica Michibata, who is gorgeous, naturally. Lewis is actually half smiling in the back there, having maybe had some time to calm down from being screwed out of the race.
Crazy Italian fan time!
(Photo from Planet F1 – check out their gallery here)
The Italians LOVE Formula One racing, but they love Ferrari even more. It is so enjoyable to see the fans watching, because they are not shy about their feelings and react aggressively to pretty much everything. I love fans in Monza, they make great TV.
The weekend looked really good for McLaren Mercedes with Lewis Hamilton on pole and Jenson Button right behind him. I love both British drivers, but have a bigger soft spot for Jenson and would have loved to seen him take back-to-back races after winning in Spa. Felipe "Felipe Baby" Massa qualified third, far ahead of his Ferrari teammate Eyebrows Alonso, who had a roll bar issue that put him in 10th at the start. I had high hopes too for Paul di Resta, who qualified 4th, with a grid drop to 9th because of a gearbox change. However, I was hoping the speed he demonstrated during qualifying would be helpful during the race. Meanwhile, Romain Grosjean was out on a suspension for casusing the big mess in Spa, and Pastor "Is Going To Run Into You" Maldonado of Williams (who I really hope are looking to get rid of him)was paying the price for douchiness with a 10-spot penalty for RUNNING INTO EVERYONE LIKE ALL OF THE TIME.
The race was lead almost entirely by Lewis Hamilton, who had a nice lead for the most part, even when Sergio "Checo" Perez (that's his real nickname, I did not make that one up) of Sauber was surging ahead to catch him. Tragically, Jenson Button's car died mid-race, and I literally had tears because I was so excited that he was going to score more points towards the championship. Naturally, Jenson got out of the car and waved to the Italian fans and was generally amazing and classy as usual. In other news, Eyebrows came from behind to wind up the race in 3rd, helped along by retirements of Jenson Button, and the 2 Red Bulls. Lewis Hamilton managed to hop over 2 drivers in the championship standings because they did not finish the race, and is now just behind Fernando Alonso.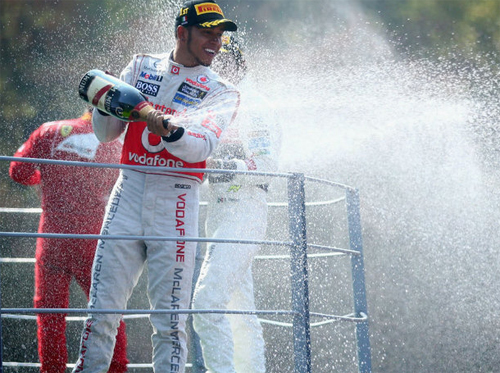 (Photo from Planet F1 – check out their gallery here)
I was totally happy for Lewis, and definitely happy for the Italian fans who got to have at least one Ferrari driver on the podium.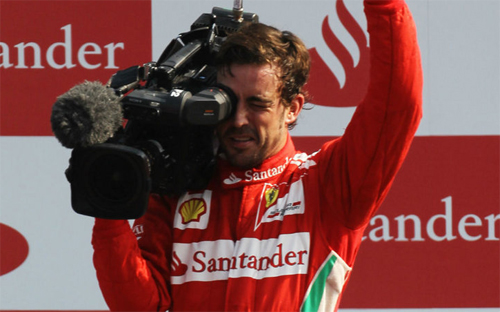 Fernando stayed on the podium long after the ceremony was over, and randomly took a turn at running a TV camera. How can you say no to that bone structure and the eyebrows?
Singapore is this weekend. NIGHT RACE!