Click here for all Formula One-related posts on JamieSanford.com.
Check out the Formula One wiki for more information.
I skipped a review of the Hungarian race. However, it was pretty awesome. Lewis Hamilton finished third after starting from the pit lane because his car caught fire during qualifying. He keeps showing us over and over how he is one of the best in the field. Here's the wiki for the race.
Spa-Francorchamps in Belgium is perhaps my favorite track of the year? Check out this amazing elevation change at Eau Rouge. (source)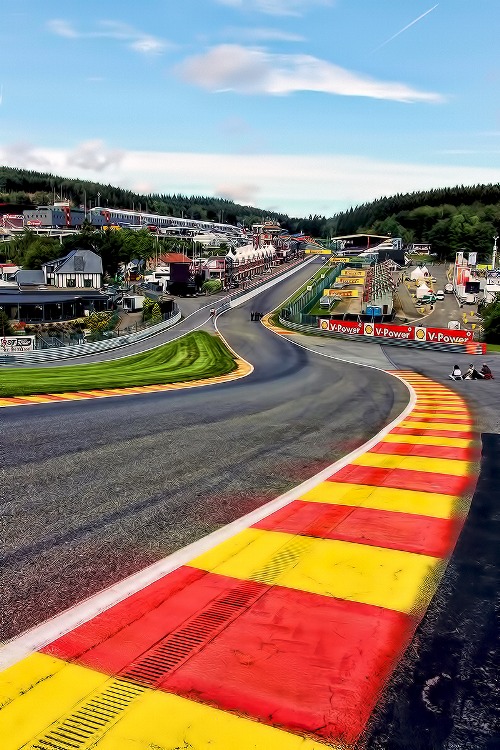 Gorgeous.
(source) Here's Fernando Alonso driving up Eau Rouge. Tragically for him he had a penalty because someone from Ferrari got too close to his car before the start. I think he would have had a podium finish. The guy is so damn talented.
So, it rained during qualifying, and Lewis Hamilton got to get through it without having a car malfunction. His teammate Nico Rosberg managed pole position, with Lewis right behind him. I was already worried, because these two do not get along. Mostly, I have been unimpressed with Nico's behavior.
(source) During lap 1, Nico tried to pass Lewis, and didn't quite manage to get around him well enough, and then clipped Lewis' tire. He broke his own wing, but managed to quickly pull himself to the front since he had punctured Lewis' tire. Lewis fell back and had to ride a flat back to the pit lane. He never managed to catch up too far and retired later in the race, earning no points. Nico ended up finishing second to Daniel Ricciardo of Red Bull, who no one is upset with.
(source) He's always having a good time!
(source) Results.
The post-race was filled with drama, naturally. Nico Rosberg was booed on the podium because the fans were all convinced he did something shady that knocked Lewis out of the race. Then, we heard from Lewis:
"We just had a meeting about it and he basically said he did it on purpose," said Hamilton. "He said he could have avoided it. He said 'I did it to prove a point'. He basically said I did it to prove a point.

"And you don't have to just rely on me. Go and ask Toto [Wolff] and Paddy [Lowe] who are not happy with him as well."

"I was gobsmacked when I was listening to the meeting. You need to ask him what point he was trying to make because he just came in there and said it was all my fault."
Oy. After this, people online questioned the truth of what was said. Awesome Formula One commentator Will Buxton had this:
Confirmation from Merc that the Lewis quotes are accurate, and are a reflection of what is believed to have been said in the meeting.

— Will Buxton (@willbuxton) August 24, 2014
So the people who were mad at Nico before he admitted to wrongdoing are REALLY pissed now. How unsportsmanlike can you get? We watch drivers go wheel to wheel all the time without hitting each other, these are professionals at the top of their sport who know how to race without putting anyone out for the day. Nico knew exactly what he was doing, and I hope he is severely penalized for it.
Back to racing in Monza in 2 weeks.