Christian Louboutin shoes are really expensive. I am not rich. Therefore, it is unlikely that I will own many/any Christian Louboutin shoes.
But they're so fabulous!
I nearly bought Christian Louboutin kitten heels for my wedding.  I couldn't wear big heels because I didn't want to tower over my husband who is only slightly taller than me, and they were black so I knew I'd wear them again.  I ended up not getting them because spending another $700 on something whilst in the crazy spending that comes with a wedding was not a good idea.
However, I've always thought that if I was going to spend this much money on shoes that I should pick something that I know I could use a lot, that would be fabulous but also would work in multiple areas of my life.  Work, play, etc.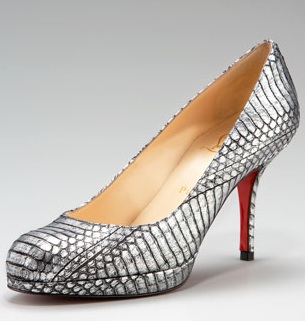 So these are my new obsession.  These are the Christian Louboutin Metallic Watersnake Pumps.  The shape of the shoe is very classic, but the snakeskin texture makes it interesting.  The heel is only 3.25 inches, which is high enough to give you the benefits of the heel without being a 5-inch heel that will likely cause my death.
Unfortunately they are also $995.
I could buy the similar shoe in black, available for $595, and I know that these shoes are crafted not just made, so they aren't just black pumps, but I'm not here for that. I want special shoes.
Can you even imagine this movie without those shoes?  Dorothy had special shoes and I want some too.