In a continued streak of non-traditional jewelry on the blog, today I'm locating lots of jewelry made of or with bullets. Lots of variety here, and all items are from Etsy!
First up is a bullet pendant with amethyst – you can also find these with clear quartz, citrine, and other stones all over Etsy. This one is $25 from Azeetadesigns.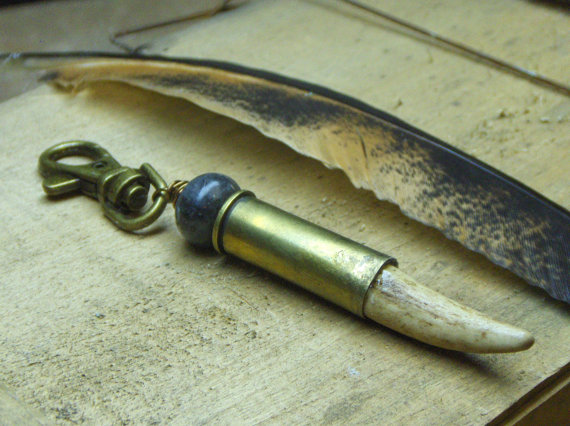 This is called the hunter's keychain – bullets and antlers. $18 from Chimiera.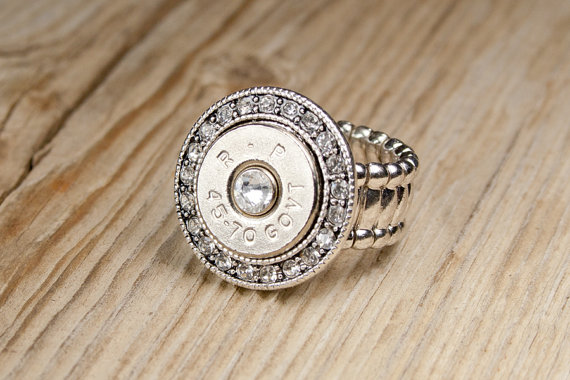 I love this because it feels high-end and fabulous while still incorporating the bullet. You can even choose different colored stones for the outer rim. $19.95 from Bullet Designs.
If you're looking for a bullet on a chain, here you go. $16 from Dorian Creations.
Taking bullets to a very feminine place is this lovely necklace with a blue Swarovski crystal. $27.50 from lauralynns.
For the cowgirl in your life. $38 from TrashandTrinkets.
It's a tennis bracelet, made of bullets! The crystal color is up to you, with about 15 options. $59.95 from BulletDesigns.
Thanks for coming by to visit JamieSanford.com. If you enjoyed reading this post, please follow @JamieSanford on Twitter, subscribe to the RSS Feed or subscribe via email so you'll always be updated of my latest posts! Just enter your email address below and click the Subscribe button.