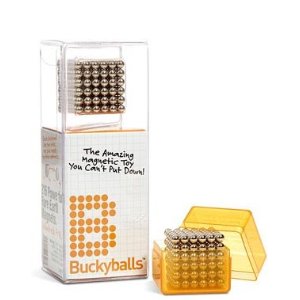 Today's wishlist item are the Bucky Balls.  These rare-earth magnets can be manipulated and grouped into countless formations. A great gift for someone who frequents a desk or would simply get a kick out of some tiny powerful magnets.
Note that these are not recommended for young children! BuckyBalls are available from Amazon for $29.49.
Thanks for coming by to visit JamieSanford.com. If you enjoyed reading this post, please follow @JamieSanford on Twitter, subscribe to the RSS Feed or subscribe via email so you'll always be updated of my latest posts! Just enter your email address below and click the Subscribe button.