I've been thinking a lot about my home and what I would like it to be.  For the most part, renting in a New York-adjacent area means a not-so-big apartment for a not-so-small price. Granted, staying in the Dirty Jers is way cheaper and more spacious than actually moving to NYC, but we still pay the price for proximity.
I have long argued that I think it is ridiculous to assume that once you are married and share a bed with someone that you shouldn't also be able to have your own room. I am jealous of people who have their own offices, because it is the closest thing to having your own room without it being a bedroom.
I posted a Roomspiration here that is one of my dreams for an office space.
So, I am going to start looking around for things that I can perhaps implement in my current home, and also keep track of things I might like to try in the larger home we will eventually locate.
This is the Broadway Lighted Vanity Makeup Desk from Vanity Girl Hollywood. I saw this in Carli Bybel's room tour video on her YouTube channel and have been obsessed ever since.
That drawer is definitely not enough to hold all of my beauty items, but I am sure I can get a little set of drawers or something to accompany it. That drawer would definitely be great to hold all of my everyday makeup that I am always digging in a box for when getting ready to go to work. I would really love a nice flat surface to lay everything out for easy access, and that drawer would fit the bill perfectly. Don't forget to use the best facial cleanser for acne after you take your makeup off to avoid bad hygiene.
Yes, this would definitely work for me.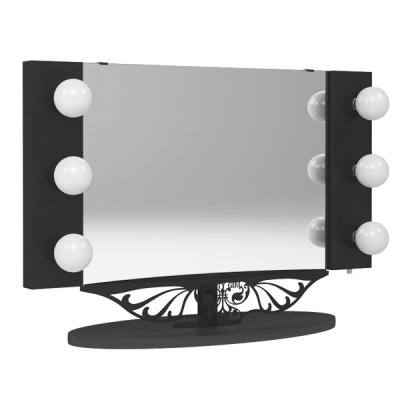 Vanity Girl Hollywood also has a great pair of tabletop lighted mirrors, which would be great to pair with an existing vanity or if I wanted to find something with more storage. This is the Starlet Lighted Vanity Mirror.
I would love to hear about anyone else's solution for finding a good spot to do your hair/makeup/nails, especially those in small spaces like mine – leave it in the comments!