88. Bear Nation (Available to rent digitally on Amazon)
Here is the trailer for Bear Nation.
[youtube pxhfV4Hhiws]
Bear Nation is the most recent documentary by Malcolm Ingram, who I previously praised about his fabulous documentary Small Town Gay Bar.  It teaches the audience about the bear community within gay culture.  The bears are bigger, hairier, more traditionally "manly" men – but the community also includes the chasers who love them.  I'm married to a bear myself, so I certainly understand the attraction.
The bears have entered my consciousness as a flag-waving fag hag in the past 5 or so years.  I knew it was a big deal when the innkeeper at a B&B in Provincetown told me how popular Bear Week was, and theme weeks in Provincetown are a BIG DEAL.  Bear Nation gives us a little more in-depth look at the subgroups within the larger group of "bears," including muscle bears and leather bears, as well as focuses on a few chasers that aren't bears but love them all the same.
My favorite part of Bear Nation is the joy I feel when seeing people who have found their people, found their place in the world.  A lot of the subjects of this film talk about being absolutely confused about being not only gay, but not interested in being or being with the twinky standard that many people think of when they think of a gay man.  Thanks to the internet, groups of bears started forming, gatherings started happening, and now the bears all have somewhere to go.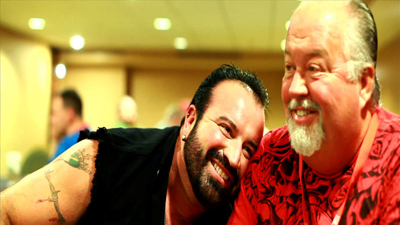 Malcolm Ingram, himself a bear, gives a wonderful look into a lesser-known portion of the gay community that have taken matters into their own hands and have an amazing time doing it.  I definitely recommend checking this documentary out. Go Bears!
Bear Nation is not currently available on DVD, but can be rented for $3.99 from Amazon to watch online, and for $2.99 from Walmart (totally surprising) to watch online.
Also, Malcolm Ingram's next film will be a documentary about the infamous Continental Baths in NYC, where a young Bette Midler started her career!