I had noticed it was approaching, and today I reached 1,000 followers on Twitter.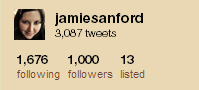 I am happy to report that I think that most of my followers are real people or businesses.  I have blocked some followers that I just wasn't interested in, and haven't auto-followed anyone back, which has resulted in my follower numbers fluctuating regularly as those I didn't follow back unfollow me. 
I follow quite a few Third Tribe members, adding them has significantly increased the great content coming in through my Twitterstream.  I follow celebrities that interest me, although I am quick to unfollow if it becomes too random or erratic.  I follow many online friends that I've met through message boards and other places I've frequented over the years.  I almost can't explain to people what it is that I like about Twitter, other than mentioning that most of the greatest content I am exposed to online is because of the quality of the 1,676 people that I follow.
So, now what?  It's just a milestone, just something to acknowledge and then move on, a lesson learned from turning 30 a few months ago.
What are your thoughts on follower count? Is there a magic number that matters?