I have watched 4 movies so far in 2011, so hopefully I can keep it up.  I caught Poetic Justice as it was just beginning tonight on Encore or something like that and watched it.  I had never seen it all the way through.
#4. Poetic Justice (available to stream on Netflix Instant Watch)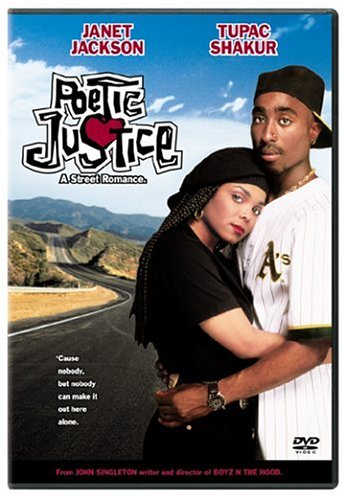 Poetic Justice is available on DVD from Amazon for $9.99.
I enjoyed this movie.  I am a big fan of Janet Jackson and think that this was a great way to introduce herself as an actress.  I remember when the movie came out because her song "Again" was popular, and it is featured in the movie.  I think the video had clips from the movie as well.
Anyway, this is really Janet's movie, even though Tupac is really good in it too.  Maya Angelou's poetry is woven throughout the movie in a way that doesn't feel forced (at least to me) and adds to my interest in the character of Justice.  Regina King is also great in the movie – but I don't think I've seen a movie with Regina King where I didn't think she was great. I love her too.
This movie really bounces between sweet moments, funny moments and dramatic/sad moments – it was at times a bit jarring but for the most part moved the story along pretty quickly.  The end of the movie was satisfying.  I don't think I would buy the DVD, I'd be fine with keeping it available via Netflix.
96 movies to go!