Hello again everyone – my clear obsession with RuPaul is unrelated to the fact that I like this movie.
Well, don't get me wrong, I'm excited that Ru is in the movie (as an ex-gay), but I didn't see this movie because of RuPaul.  That was just a bonus.
9. But I'm A Cheerleader (Not available to stream on Netflix Instant Watch)
Let's start with the trailer, which is rated R.
[youtube X_yjuTaRGx4]
But I'm A Cheerleader centers around Megan, played by Natasha Lyonne, a cheerleader that we find out doesn't realize that she's a lesbian.  Her friends and family bring in RuPaul for an intervention, and she's off to True Directions, a camp to turn people straight.  We meet the other kids at the camp, but are intrigued by Graham, played by Clea Duvall.  The kids start going through their steps to heterosexuality and hilarity ensues – I won't give it away because it's funny and I'm not giving anything away beyond what's in the trailer.
I will give away that Megan and Graham fall for each other, so it gets to be a sweet love story in addition to a comedy.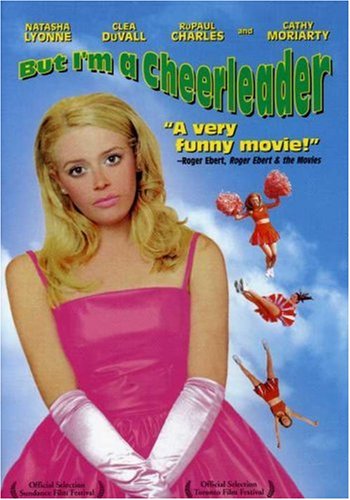 I can recommend But I'm A Cheerleader to anyone who likes romantic comedies – and this one has a great message stuck in there too, about being yourself even if it isn't the most comfortable choice.
But I'm A Cheerleader is available on DVD from Amazon for $11.99.